Handbook of Organic Conductive Molecules and Polymers, Volume 3, Conductive Polymers: Spectroscopy and Physical Properties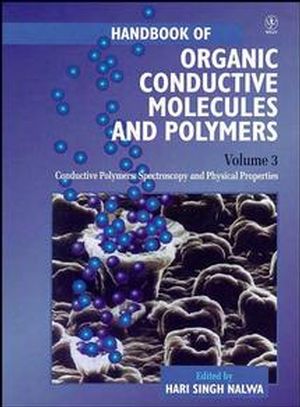 Handbook of Organic Conductive Molecules and Polymers, Volume 3, Conductive Polymers: Spectroscopy and Physical Properties
ISBN: 978-0-470-86541-5 November 2000 890 Pages
Description
Conductive polymers--polymers that conduct electricity--have applications in telecommunications, electronics, materials science, chemistry and physics. The four self-contained volumes of this handbook thoroughly explore all aspects of conductive polymers including chemical and physical properties, technology and applications.
Table of contents
Volume 3
Crystallography of Conductive Polymers
P. van Hutten and G. Hadziioannou
Structure of Polythiophenes
E. Samuelsen and J. Mardalen
Photoelectron Spectroscopy of Conductive Polymers
E. Kang, et al.
Magnetic Properties of Conducting Polymers
K. Mizoguchi and S. Kuroda
Microwave Properties of Conductive Polymers
L. Olmedo, et al.
Electrocatalytic Properties of Conductive Polymers
C. Lamy, et al.
Thin Film Properties of Oligothiophenes
C. Ziegler
Electrochromism in Polyanilines
A. Hugot-Le-Goff
Thermochromism and Solvatochromism in Substituted Polythiophenes
O. Inganas
Degradation and Stability of Conductive Polymers
F. Mohammad
Index