Handbook of Organic Conductive Molecules and Polymers, Volume 4, Conductive Polymers: Transport, Photophysics and Applications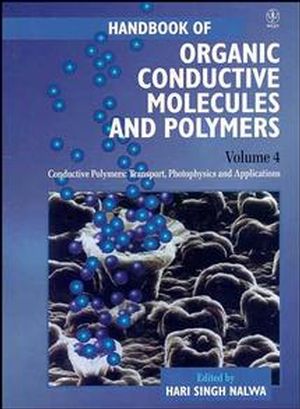 Handbook of Organic Conductive Molecules and Polymers, Volume 4, Conductive Polymers: Transport, Photophysics and Applications
ISBN: 978-0-470-85945-2
Nov 2000
728 pages
Description
Written by leading international scientists the Handbook of Conductive Molecules and Polymers covers a vast range of organic materials, their chemical and physical properties, technology, and applications. Drawing on two decades of pioneering research, this is the first book to emphasise the multidisciplinary nature of the subject. As the subject continues to evolve it has an inevitable impact on related fields. Hence the publication of this work--the first multi-disciplinary handbook of conductive molecules and polymers.
Volume 4
Transport in Conducting Polymers
E. Conwell
Charge Transport in Conducting Polymers
R. Menon
Photochemical Processes of Conductive Polymers
M. Abdou and S. Holdcroft
Photorefractive Polymers
L. Yu, et al.
Electropolymerized Phthalocyanines and Their Applications
T. Guarr
Characterization and Applications of Poly(p-phenylene) and Poly(p-phenylenevinylene)
C. Kvarnstrom and A. Ivaska
Artificial Muscles, Electrodissolution and Redox Processes in Conducting Polymers
T. Otero
Conducting Polymers for Batteries, Supercapacitors and Optical Devices
C. Arbizzani, et al.
Photoelectric Conversion by Polymeric and Organic Materials
M. Kaneko
Index