Handbook of Palliative Care, 2nd Edition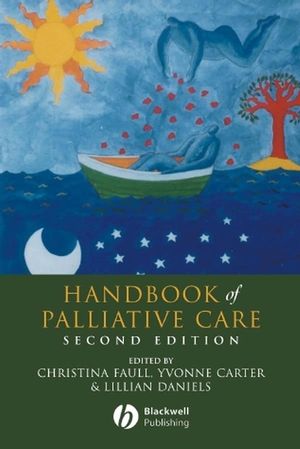 Handbook of Palliative Care, 2nd Edition
ISBN: 978-1-405-14375-2 April 2008 Wiley-Blackwell 504 Pages
Description
This handbook is a practical and comprehensive introduction to the field of palliative medicine. It provides clear insight into many of the complex issues that arise in the delivery of palliative care and will be an invaluable resource to all disciplines involved in palliative care in hospital, hospice and community settings.





1st Edition was the WINNER of the 1999 BMA Medical Book of the Year Prize


Why you should buy this book






Comprehensive and authoritative text with a very practical and thorough approach

Written by competent experts in the areas of their contributions

New sections on heart failure, respiratory failure and end-stage renal failure

Coverage of medicine management and complementary medicine in palliative care

Discusses important areas of audit and ethical issues in palliative medicine
"The second edition responds to evaluative comments on the first edition in strengthening its multidisciplinary focus and providing a broader professional approach through both the editorial team and contributors. It aims, as before, to embrace practical issues as well as to provide an evidence-based and empirical approach..."
From the Preface
List of Contributors;.
Foreword;.
Preface;.
Abbreviations List;.
1. The Context and Principles of Palliative Care.
2. Teamworking for Effective Palliative Care.
3. Needs and Social Exclusion at the End of Life.
4. User Voices in Palliative Care.
5. Ethical Issues in Palliative Care.
6. Communication Skills in Palliative Care.
7. Adapting to Death, Dying and Bereavement.
8. The Principles of Pain Management.
9. The Management of Gastrointestinal Symptoms and Advanced Liver Disease.
10. The Management of Respiratory Symptoms.
11. Managing Complications of Cancer.
12. The Management of People with Advanced Head and Neck Cancers.
13. Palliative Care for People with Progressive Neurological Disorders.
14. Palliative Care for People with HIV Infection and AIDS.
15. Palliative Care for Children.
16. Palliative Care for Adolescents and Young Adults.
17. Palliative Care in Advanced Heart Disease.
18. Palliative Care in Renal Disease.
19. management of Lymphoedema.
20. Pressure Area Care and the Management of Fungating Wounds.
21. Terminal Care and Dying.
22. Medicines Management in Palliative Care.
23. Complementary Approaches to Palliative Care.
Resources/Useful Addresses.
Index
"It is not so much a handbook of palliative care as the handbook of palliative care."

Palliative Medicine
"an original summary and an important contribution"
Respiratory Care

"plenty of value in this book"
Progress in Palliative Care

"a must for all practice and hospital libraries"
The British Journal of General Practice
WINNER of the 1999 BMA Medical Book of the Year Prize
* comprehensive and authoritative text with a very practical and thorough approach
* written by competent experts in the areas of their contributions