Handbook of Personology and Psychopathology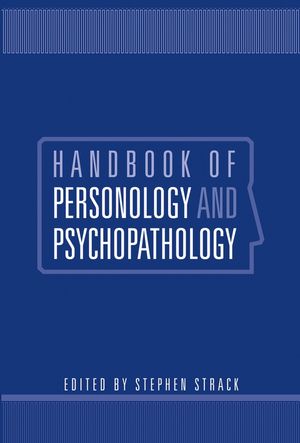 Handbook of Personology and Psychopathology
ISBN: 978-0-471-45907-1
Jan 2005
600 pages
Description
Personology is the study of human character in all of its complexities, covering the range of normal and pathological individuals, from evolutionary development, classification, diagnosis and measurement, to intervention at the individual, family, and societal levels. This volume, sure to become a classic in the field, provides a state-of-the-art overview of the field of personology, including personality theory, taxonomy, and assessment; diagnosis and treatment of personality disorders; and the interface between normal and abnormal personlity. The breadth and depth of this monumental work and the caliber of its contributors is unsurpassed.
* Many of the leading clinicians and researchers in psychology are contributors including Otto Kernberg, John Livesley, Robert Bornstein, Jeffrey Magnavita, Drew Westen, Irving Weiner, and Lorna Benjamin
* Represents the culmination of a professional career and a capstone to our publishing program in the area of personality and psychopathology
Preface.
Part I: Conceptual Issues.
Chapter 1: Evolution as a Foundation for Psychological Theories (Clyde Hendrick).
Chapter 2: Nature and Nurture in Personality Disorders (Joel Paris).
Chapter 3: Identity Diffusion in Severe Personality Disorders (Otto F. Kernberg).
Chapter 4: A Language and Methodology for Studying the Hierarchies in the DSMs (Roger K. Blashfield and Elizabeth H. Flanagan).
Chapter 5: Critique of Psychoanalysis (Adolf Grünbaum).
Part II: Theoretical Models, Topics, and Issues.
Chapter 6: Genetic Contributions to Personality Structure (W. John Livesley and Kerry L. Jang).
Chapter 7: The Interpersonal Nexus of Personality Disorders (Aaron L. Pincus).
Chapter 8: Systems Theory Foundations of Personality, Psychopathology, and Psychotherapy (Jeffrey J. Magnavita).
Chapter 9: Psychodynamic Theory and Personality Disorders (Robert F. Bornstein).
Chapter 10: Self Psychological Foundations of Personality Disorders (Marshall L. Silverstein).
Chapter 11: Political Psychology and Personality (Aubrey Immelman).
Part III: Taxonomy, Classification, and Syndromes.
Chapter 12: Concepts of Normality and the Classification of Psychopathology (Melvin Sabshin).
Chapter 13: Prototype Diagnosis of Personality (Drew Westen and Rebekah Bradley).
Chapter 14: A Five-Factor Model Perspective on Personality Disorders (Paul T. Costa Jr. and Robert R. McCrae).
Chapter 15: Psychopathy as a Personality Construct (Ronald Blackburn).
Chapter 16: Borderline Personality Disorder (Neil Bockian).
Part IV: Assessment Themes.
Chapter 17: Integrative Personality Assessment with Self-Report and Performance-Based Measures (Irving B. Weiner).
Chapter 18: The Study of Psychosocial Factors Influencing Medical Diseases (Michael H. Antoni).
Chapter 19: Personality-Based Assessment of Posttraumatic Stress Disorder (George S. Everly Jr.).
Chapter 20: Measuring Normal Personality the Millon Way (Stephen Strack).
Chapter 21: Experiences in Translating the Millon Inventories in a European Country (Eric Simonsen).
Chapter 22: Issues in the International Use of Psychological Tests (Jan Derksen and Hedwig Sloore).
Part V: Treatment Issues.
Chapter 23: Addressing Interpersonal and Intrapsychic Components of Personality During Psychotherapy (Lorna Smith Benjamin).
Chapter 24: Cognitive Therapy for the Personality Disorders (Robert L . Leahy, Judith Beck, and Aaron T. Beck).
Chapter 25: Schema Therapy for Personality Disorders (David P. Bernstein).
Chapter 26: The Role of Common Factors in Domain-Focused Psychotherapy for the Personality Disorders (Darwin Dorr).
Chapter 27: Interpersonal Motives and Personality Disorders (Leonard M. Horowitz and Kelly R. Wilson).
Chapter 28: Personology, Personality Disorders, and Psychotherapy Integration (Jerry Gold).
Part VI: Future Perspective.
Chapter 29: Ref lections on the Future of Personology and Psychopathology (Theodore Millon).
Highlights of Theodore Millon's Career.
Author Index.
Subject Index.