Handbook of Plasma Immersion Ion Implantation and Deposition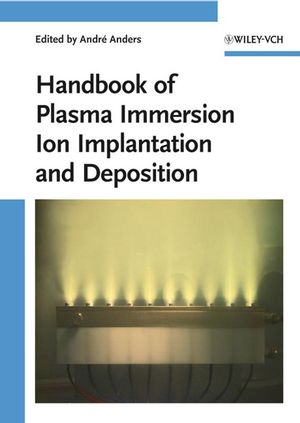 Handbook of Plasma Immersion Ion Implantation and Deposition
ISBN: 978-0-471-24698-5 October 2000 760 Pages
Description
This is the first book to describe a family of plasma techniques used to modify the surface and near-surface layer of solid materials.
Introduction (J. Conrad).

FUNDAMENTALS.

Fundamentals of Plasmas and Sheaths (M. Lieberman).

Ion Implantation and Thin-Film Deposition (M. Nastasi, et al.).

Fundamentals of Plasma Immersion Ion Implantation and Deposition (B. Wood, et al.).

Materials Characterization and Testing Methods-A Brief Survey (K. Walter, et al.).

TECHNOLOGY.

Design of a PIII&D Processing Chamber (J. Matossian, et al.).

Plasma Sources (A. Anders, et al.).

Pulser Technology (D. Goebel, et al.).

Health and Safety Issues Related to PIII&D (D. Beals, et al.).

APPLICATIONS.

Nonsemiconductor Applications of PIII&D (K. Sridharan, et al.).

Semiconductor Applications (P. Chu, et al.).

Appendices.

Index.
"...provides a state-of-the-art survey of this important technology, and it will be welcomed by researchers and students in surface engineering, materials science, electrical engineering, and related fields." (E-Streams Vol. 4, No. 3, March 2001)