Handbook of Practical Program Evaluation, 2nd Edition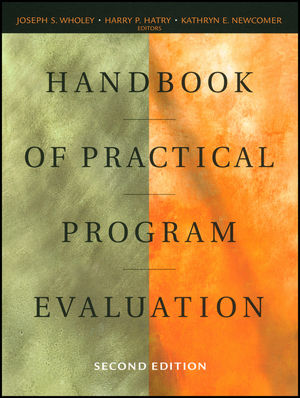 Handbook of Practical Program Evaluation, 2nd Edition
ISBN: 978-1-118-00815-7 May 2004 Jossey-Bass 768 Pages
Description
The second edition of Handbook of Practical Program Evaluation offers managers, analysts, consultants, and educators in government, nonprofit, and private institutions a valuable resource that outlines efficient and economical methods for assessing program results and identifying ways to improve program performance. The Handbook has been thoroughly revised.  Many new chapters have been prepared for this edition, including chapters on logic modeling and on evaluation applications for small nonprofit organizations. The Handbook of Practical Program Evaluation is a comprehensive resource on evaluation, covering both in-depth program evaluations and performance monitoring.  It presents evaluation methods that will be useful at all levels of government and in nonprofit organizations.
Table of contents
Figures, Tables, and Exhibits xi
Preface xvii
The Editors xix
The Contributors xxiii
Meeting the Need for Practical Evaluation Approaches: An Introduction xxxiii
Kathryn E. Newcomer, Harry P. Hatry, Joseph S. Wholey
Part One: Designing Performance Monitoring Systems and Evaluation Studies 1
1. Using Logic Models 7
John A. McLaughlin, Gretchen B. Jordan
2. Evaluability Assessment 33
Joseph S. Wholey
3. Implementation Evaluation 63
Arnold Love
4. Performance Monitoring 98
Theodore H. Poister
5. Quasi-Experimentation 126
Charles S. Reichardt, Melvin M. Mark
6. Using Randomized Experiments 150
Robert G. St. Pierre
7. Meta-Analysis, Systematic Reviews, and Research Syntheses 176
Robert F. Boruch, Anthony Petrosino
Part Two: Practical Data Collection Procedures 205
8. Trained Observer Ratings 211
John M. Greiner
9. Using Surveys 257
Kathryn E. Newcomer, Timothy Triplett
10. Using Expert Judgment 292
Harvey A. Averch
11. Role Playing 310
Margery Austin Turner, Wendy Zimmermann
12. Using Focus Groups 340
Robert Goldenkoff
13. Collecting Data in the Field 363
Demetra Smith Nightingale, Shelli Balter Rossman
14. Using Agency Records 396
Harry P. Hatry
Part Three: Analyzing Evaluation Data 413
15. Qualitative Data Analysis 417
Sharon L. Caudle
16. Using Statistics in Evaluation 439
Kathryn E. Newcomer, Philip W. Wirtz
17. Using Regression Analysis 479
Dale E. Berger
18. Cost-Effectiveness and Cost-Benefit Analysis 506
James Edwin Kee
Part Four: Getting Evaluation Results Used 543
19. Pitfalls of Evaluation 547
Harry P. Hatry, Kathryn E. Newcomer
20. Managing Evaluation Projects 571
James B. Bell
21. Writing for Impact 604
George F. Grob
22. Using Organizational Report Cards 628
William T. Gormley Jr.
23. The Use of Evaluation by Nonprofit Organizations 649
Mary E. Kopczynski, Kathleen Pritchard
24. Other Issues and Trends in Evaluation 670
Harry P. Hatry, Joseph S. Wholey, Kathryn E. Newcomer
Name Index 685
Subject Index 693
New To This Edition
This is new and much improved version of the widely-used Handbook of Practical Program Evaluation. The new edition is a new book that includes new, current, and much improved chapters on:
* logic modeling
* implementation evaluation
* performance monitoring
* quasi-experimentation
* randomized experiments
* meta-analysis, systematic research reviews, and research syntheses
* qualitative data analysis
* pitfalls of evaluation
* writing for impact
* organizational report cards
* use of evaluation by nonprofit organizations
Almost all the other chapters have been substantially revised, with new material that makes them current.
Downloads
Download the syllabus for a course titled "Public and Non-Profit Program Evaluation".
You will need a program like Adobe Reader to view the file. You can download Adobe Reader here.
Download
Second Companion Supplement
This file is an Adobe PDF format. If you need help viewing PDF files, you can download the free reader from Adobe's website.
Download
HPPE Instructor Study Guide
This Adobe file requires Adobe Reader to view. If your computer is unable to view Adobe PDF files, you can download the free reader from Adobe.
Download
What's New
Classic evaluation handbook, featuring contributions by the field's best known practitioners and academics
Second edition substantially revised, with updated budget figures and new chapters on logic modelling and evaluation practices for the small nonprofit
Detailed charts and illustrations illustrate key evaluation principles
Online Instructor's Guide and Sample Syllabus