Handbook of Psoriasis, 2nd Edition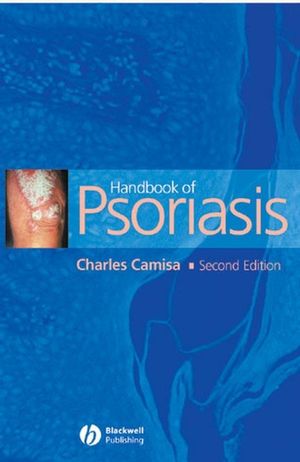 Handbook of Psoriasis, 2nd Edition
ISBN: 978-1-405-14611-1 April 2008 Wiley-Blackwell 384 Pages
Description
The new second edition of the Handbook of Psoriasis remains an easy-to-read but detailed text on a common skin disease which affects 2% of the world's population. The text is designed as a reference for both the specialist and the primary care physician and can be read cover-to-cover in a week. Each chapter stands alone as a reference to a specific topic but is clearly cross-referenced to offer a more detailed perspective.





This new edition runs the full gamut from pathogenesis to clinical variants of psoriasis to individual treatments with emphasis on standard protocols. Each chapter has been carefully updated to reflect developments in the last five years and new chapters cover such topics as childhood psoriasis, psoriatic arthritis and biologic immunotherapy.
1 Overview of Psoriasis.
2 Clinical Variants of Psoriasis.
3 Histopathology of Psoriasis.
4 Pathogenesis of Psoriasis.
5 Conditions Associated with Psoriasis.
6 Drugs that Induce or Exacerbate Psoriasis.
7 Evaluation of Psoriasis Symptoms and Disability.
8 Scalp Psoriasis.
9 Nail Psoriasis.
10 Childhood Psoriasis.
11 Corticosteroids.
12 Anthralin.
13 Ultraviolet V Phototherapy and Coal Tar.
14 Psoralens and Photochemotherapy (PUVA).
15 Retinoids.
16 Methotrexate.
17 Cyclosporine, Tacrolimus and Pimecrolimus.
18 Vitamin D3 and Analogues.
19 Antimetabolites anf Sulfasalazine.
20 Investigational Treatments for Psoriasis.
21 Psoriatic Arthritis.
22 Biologic Immunotherapy of Psoriasis
"Several evenings reading this book in its entirety would be time well spent."
British Journal of Dermatology, Feb 1999
"Every dermatology unit should possess a copy of this book."
Dermatology in Practice, Nov 2000
"It is as comprehensive as one would expect in relevant chapters of major dermatology textbooks, with the added inclusion of practical therapeutic tips, check lists and detailed regimes.'
Australasian Journal of Dermatology, 1998

"Camisa's new edition of the Handbook of Psoriasis will be a very useful reference for doctors treating psoriasis patients. Camisa originally published a hardcover reference book on psoriasis in the early 1990s. This is the second edition of a handbook that is designed as a companion to that original book. However, it is a complete book in its own right and a comprehensive summary of current knowledge about psoriasis and treatment of this condition in dermatological medicine. All chapters are well cross-referenced with recent literature articles, useful for a dermatologist wishing to follow up a particular direction. The book has an updated review on all conventional therapies and a final chapter on the new biological agents. Such is the pace of development with these new therapies that this final chapter almost seems dated. The chapter, however, still contains an excellent summary of the differences and similarities between these remarkable and new potential treatments for psoriasis. This book is recommended as an inexpensive addition to a dermatologist's library, providing a well-researched update of recent literature on psoriasis."
Australasian Journal of Dermatology, Nov, 2005
* Essential practitioner guide
* New authors broaden the scope
* Brand new drug therapies
* Recent advances in treatment of psoriasis