Handbook of Psychology of Investigative Interviewing: Current Developments and Future Directions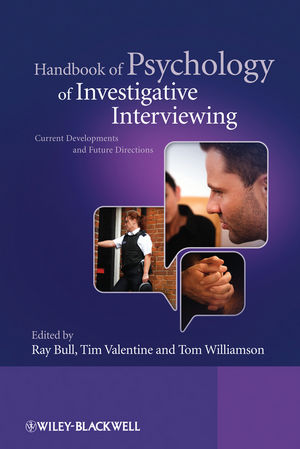 Handbook of Psychology of Investigative Interviewing: Current Developments and Future Directions
ISBN: 978-0-470-51267-8
Sep 2009, Wiley-Blackwell
360 pages
Description
Investigative interviewing, and the information obtained from witnesses and victims, plays a vital role in criminal investigations. This comprehensive handbook explores current developments taking place in this rapidly developing field.
An authoritative handbook created by prestigious editors and an international team of recognised authors

International in its focus - the book assesses current developments taking place in several countries

Takes a holistic approach to the process by including sections on eyewitness indentification and evaluating truthfulness
About the Editors.
About the Contributors.
Preface.
Chapter 1 The Psychology of Suspects' Decision-Making during Interrogation (Michel St-Yves and Nadine Deslauriers-Varin).
Chapter 2 A Typology of Denial Strategies by Suspects in Criminal Investigations (Stephen Moston and Geoffrey M. Stephenson).
Chapter 3 A Structured Model for Investigative Interviewing of Suspects (Jannie van der Sleen).
Chapter 4 Finding False Confessions (Peter J. van Koppen).
Chapter 5 The Investigation of Terrorist Offences in the United Kingdom: The Context and Climate for Interviewing Offi cers (John Pearse).
Chapter 6 From Criminal Justice to Control Process: Interrogation in a Changing Context (David Dixon).
Chapter 7 Major Crime (Investigative Powers) Act 2004: The Chief Examiner and Coercive Powers (Damien B. Maguire).

Chapter 8 The Relation between Consistency and Accuracy of Eyewitness Testimony: Legal versus Cognitive Explanations (Ronald P. Fisher, Neil Brewer and Gregory Mitchell).
Chapter 9 The Cognitive Interview: Research and Practice across the Lifespan (Robyn E. Holliday, Charles J. Brainerd, Valerie F. Reyna and Joyce E. Humphries).
Chapter 10 Investigative Interviewing in the Courtroom: Child Witnesses under Cross-Examination (Rachel Zajac).
Chapter 11 Recovered Memories (James Ost).
Chapter 12 Obtaining and Interpreting Eyewitness Identifi cation Test Evidence: The Infl uence of Police–Witness Interactions (Neil Brewer and Gary L. Wells).
Chapter 13 Recent Developments in Eyewitness Identifi cation Procedures in the United Kingdom (Tim Valentine, Carwyn Hughes and Rod Munro).
Chapter 14 A Method to Enhance Person Description: A Field Study (Samuel Demarchi and Jacques Py).
Chapter 15 Recent Developments in North American Identifi cation Science and Practice (Steven D. Penrod and Margaret Bull Kovera).
Chapter 16 Truthfulness in Witnesses' and Suspects' Reports (A. Daniel Yarmey).
Chapter 17 Evaluating Truthfulness: Detecting Truths and Lies in Forensic Contexts (Barry S. Cooper, Hugues Hervé and John C. Yuille).
Index.