Handbook of Psychosocial Rehabilitation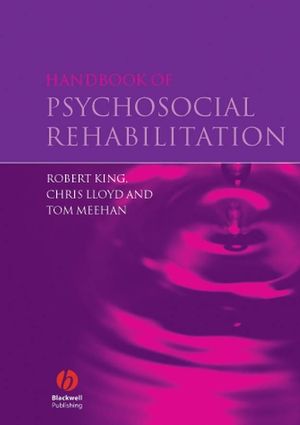 Handbook of Psychosocial Rehabilitation
ISBN: 978-1-118-70253-6
May 2013, Wiley-Blackwell
232 pages
Description
The Handbook of Psychosocial Rehabilitation is designed as a clinical handbook for practitioners in the field of mental health. It recognises the wide-ranging impact of mental illness and its ramifications on daily life. The book promotes a recovery model of psychosocial rehabilitation and aims to empower clinicians to engage their clients in tailored rehabilitation plans. The authors distil relevant evidence from the literature, but the focus is on the clinical setting. Coverage includes the service environment, assessment, maintaining recovery-focussed therapeutic relationships, the role of pharmacotherapy, intensive case management and vocational rehabilitation.
1. Key Concepts and Definitions.
2. Major Mental Illness and its impact.
3. Lived experience perspectives - Helen Glover.
4. The framework for psychosocial rehabilitation: bringing it into focus - Lindsey G. Oades and Frank P. Deane.
5. Building and maintaining a recovery focused therapeutic relationship - Frank P. Deane and Trevor P. Crowe.
6. Individual assessment and the development of a collaborative rehabilitation plan.
7. Integrating psychosocial rehabilitation and pharmacotherapy - Tom Meehan, Shane McCombes and Terry Stedman.
8. Family psychoeducation.
9. Intensive case management in psychosocial rehabilitation.
10. Community participation - Chris Lloyd and Frank P. Deane.
11. Vocational rehabilitation.
12. Mental illness and substance misuse.
13. Early intervention, relapse prevention and promotion of healthy lifestyles.
14. Service evaluation.
15. The well-being and professional development of the psychosocial rehabilitation practitioner
"[P]ractical, clearly written, cleanly organised and obviously intended as a practitioner's guide and source book...chapters can be read independently or sequentially redeployed to suit the reader's predilections."
Mental Health Practice<!--end-->
"[A] valuable aspect of this book lies in its conceptualization of clients with severe mental illness … an excellent clinical guide to psychosocial rehabilitation."
PsycCritiques
"I recommend buying this book to anyone who is interested in a recovery approach to psychosocial rehabilitation." British Journal of Occupational Therapy


Offers detailed case studies, including a continuous case study spanning across chapters

Provides tips for evidence-based clinical practice

Summarises key evidence from the mental health literature

Explores values and standards in contemporary practice

Reflects multi-disciplinary and international perspectives

Appeals to a wide readership, including psychiatrists, clinical psychologists, mental health nurses, occupational therapists and social workers, disability support workers/providers and carers