Handbook of Psychotherapy Supervision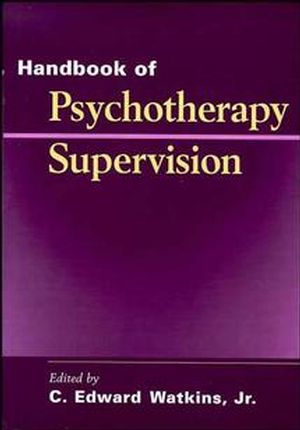 Handbook of Psychotherapy Supervision
ISBN: 978-0-471-11219-8 March 1997 672 Pages
Description
This book provides up-to-date in-depth coverage of psychotherapy supervision. Experienced psychotherapy supervisors and leading researchers/clinicians explore the theoretical underpinnings of supervision, examine the research on variables influencing the success of supervision, and offer clinical guidelines on effective supervision practices. The book examines the following key areas: historical, methodological, and conceptual foundations; theories and models of supervision; approaches to teaching psychotherapy skills; specialized forms and modes of supervision; researching psychotherapy supervision; and professional, ethical, and legal issues.
Partial table of contents:

CONCEPTUAL AND METHODOLOGICAL FOUNDATIONS.

Defining Psychotherapy Supervision and Understanding SupervisorFunctioning (C. Watkins).

APPROACHES TO PSYCHOTHERAPY SUPERVISION.

Client-Centered Supervision (C. Patterson).

TRAINING MODELS FOR PSYCHOTHERAPY SUPERVISION.

The Discrimination Model (J. Bernard).

SPECIALIZED FORMS AND MODES.

An Experiential Group Model for Group Psychotherapy Supervision (D.Altfeld & H. Bernard).

RESEARCHING PSYCHOTHERAPY SUPERVISION.

The Effectiveness of Psychotherapy Supervision (M. Lambert & B.Ogles).

PROFESSIONAL, ETHICAL, AND LEGAL ISSUES.

Gender and Psychotherapy Supervision: The Partnership Model (C.Munson).

ENDNOTES.

Some Concluding Thoughts About Psychotherapy Supervision (C.Watkins).

Indexes.
Modeled after Bergin & Garfield's Handbookof Psychotherapy and Behavior Change.
Provides and in-depth analysis of theory, research, and practice of supervision.
Covers supervision in a variety of therapeutic models and with a number of special patient populations.