Handbook of Radiopharmaceuticals: Radiochemistry and Applications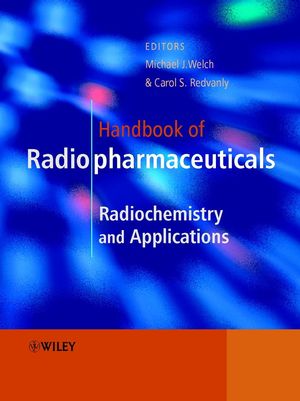 Handbook of Radiopharmaceuticals: Radiochemistry and Applications
ISBN: 978-0-471-49560-4
Jan 2003
862 pages
Description
A comprehensive, authoritative and up-to-date reference for the newcomer to radiopharmaceuticals and those already in the field.
Radiopharmaceuticals are used to detect and characterise disease processes, or normal biological function, in living cells, animals or humans. Used as tracer molecules, they map the distribution, uptake and metabolism of the molecule in clinical studies, basic research or applied research.

The area of radiopharmaceuticals is expanding rapidly. The number of PET centers in the world is increasing at 20% per year, and many drug companies are utilising PET and other forms of
radiopharmaceutical imaging to evaluate products.
* Readers will find coverage on a number of important topics such as radionuclide production, PET and drug development, and regulations
* Explains how to use radiopharmaceuticals for the diagnosis and therapy of cancer and other diseases
* The editors and a majority of the contributors are from the United States
Contributors.
Preface.
Production of Radionuclides in Accelerators (D. Schlyer).
Accelerators Available for Isotope Production (T. Ruth).
Reactor Production of Radionuclides (L. Mausner and S. Mirzadeh).
Chemistry of Nitrogen-13 and Oxygen-15 (J. Clark and F. Aigbirhio).
Aspects on the Synthesis of 11C-Labelled Compounds (G. Antoni, et al.).
Chemistry of Fluorine-18 Radiopharmaceuticals (S. Snyder and M. Kilbourn).
Production and Application of Synthetic Precursors Labeled with Carbon-11 and Fluorine-18 (R. Ferrieri).
Automation for the Synthesis and Application of PET Radiopharmaceuticals (D. Alexoff).
Design and Synthesis of 2-Deoxy-2-[18F]Fluoro-D-Glucose (18FDG) (J. Fowler and T. Ido).
Technetium Radiopharmaceuticals (A. Mahmood and A. Jones).
Chemistry of Gallium and Indium Radiopharmaceuticals (R. Weiner and M. Thakur).
Chemistry of Copper Radionuclides and Radiopharmaceutical Products (C. Anderson, et al.).
Chemistry Applied to Iodine Radionuclides (R. Finn).
Radiobromine for Imaging and Therapy (D. Rowland, et al.).
Development of Radiolabeled Probes to Monitor Gene Therapy (C. Shiue and S. Eck).
Mechanism of Target Specific Uptake Using Examples of Muscarinic Receptor Binding Radiotracers (W. Eckelman).
Strategies for Quantifying PET Imaging Data from Tracer Studies of Brain Receptors and Enzymes (J. Logan).
Radiopharmaceuticals for Studying the Heart (D. Hwang and S. Bergmann).
PET Imaging Studies in Drug Abuse Research (J. Fowler, et al.).
Research and Clinical Application of Neuroreceptor Imaging (H. Wagner and Z. Szabo).
Dynamic Neurotransmitter Interactions Measured with PET (W. Schiffer and S. Dewey).
Tumor Imaging (R. Hustinx and A. Alavi).
Radiolabeled Peptides for Tumor Imaging (L. Knight).
Radiolabeled Antibodies for Tumor Imaging and Therapy (M. Zalutsky and J. Lewis).
Receptor Imaging of Tumors (Non-Peptide) (J. Katzenellenbogen).
Pulmonary Function Imaging with PET Radiopharmaceuticals (P. Elsinga and W. Vaalburg).
Considerations in the Selection of Radionuclides for Cancer Therapy (A. Kassis and S. Adelstein).
Radiopharmaceuticals for the Study of Liver and Renal Function (D. Vera, et al.).
Index.
"...a must for all colleagues who are involved in radiopharmaceuticals, either at the bench or at the bedside." (
Eur Jnl Nuc Med Mol Imaging
, August 2003)
"...a unique text that lives up to its goals...a very competent reference for anyone wishing to immerse themselves into the world of radiopharmaceuticals." (The Annals of Phamacotherapy, Vol. 37, November 2003)
"...every aspect of importance in this field is discussed...an excellent overview..." (Eur Jnl Med Mol Imaging, 2003)