Handbook of Social Psychology, 2 Volume Set, 5th Edition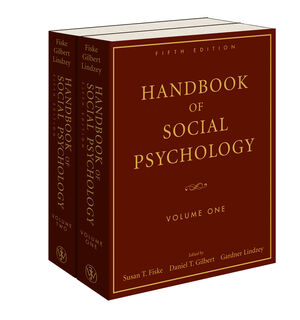 Handbook of Social Psychology, 2 Volume Set, 5th Edition
ISBN: 978-0-470-13747-5
Feb 2010
2000 pages
Description
The foremost reference resource for academics, researchers, and graduate students in psychology looking for the most current, well-researched, and thorough information in the field of social psychology

Established for over 50 years; no other reference in the field can claim the stature or thoroughness of content as this classic resource

Represents the full field from neuron to nation

This fifth edition brings on board mostly new authors as befits a vigorous, cutting-edge science

Features chapters on social neuroscience, mind perception, morality, and social stratification, among other new topics

4 Volumes
PREFACE.
CONTRIBUTORS.
VOLUME 1.
Part I: The Science of Social Psychology.
1. HISTORY OF SOCIAL PSYCHOLOGY: INSIGHTS, CHALLENGES, AND CONTRIBUTIONS TO THEORY AND APPLICATION (Lee Ross, Mark Lepper, and Andrew Ward).
2. THE ART OF LABORATORY EXPERIMENTATION (Timothy D. Wilson, Elliot Aronson, and Kevin Carlsmith).
3. SOCIAL PSYCHOLOGICAL METHODS OUTSIDE THE LABORATORY (Harry T. Reis and Samuel D. Gosling).
4. DATA ANALYSIS IN SOCIAL PSYCHOLOGY: RECENT AND RECURRING ISSUES (Charles M. Judd and David A. Kenny).
Part II: The Social Being.
5. SOCIAL COGNITIVE NEUROSCIENCE (Matthew D. Lieberman).
6. SOCIAL PSYCHOPHYSIOLOGY AND EMBODIMENT (Jim Blascovich and Wendy Berry Mendes).
7. AUTOMATICITY AND THE UNCONSCIOUS (Ap Dijksterhuis).
8. MOTIVATION (John A. Bargh, Peter M. Gollwitzer, and Gabriele Oettingen).
9. EMOTION (Dacher Keltner and Jennifer S. Lerner).
10. ATTITUDES (Mahzarin R. Banaji and Larisa Heiphetz).
11. ATTITUDES AND PERSUASION: FROM BIOLOGY TO SOCIAL RESPONSES TO PERSUASIVE INTENT (Dolores Albarracín and Patrick Vargas).
12. PERCEIVING PEOPLE (C. Neil Macrae and Susanne Quadflieg).
13. NONVERBAL BEHAVIOR (Nalini Ambady and Max Weisbuch).
14. MIND PERCEPTION (Nicholas Epley and Adam Waytz).
15. JUDGMENT AND DECISION MAKING (Thomas D. Gilovich and Dale W. Griffin).
16. SELF AND IDENTITY (William B. Swann, Jr. and Jennifer K. Bosson).
17. GENDER (Wendy Wood and Alice H. Eagly).
18. PERSONALITY IN SOCIAL PSYCHOLOGY (David C. Funder and Lisa A. Fast).
19. HEALTH (Shelley E. Taylor).
20. EXPERIMENTAL EXISTENTIAL PSYCHOLOGY: COPING WITH THE FACTS OF LIFE (Tom Pyszczynski, Jeff Greenberg, Sander Koole, and Sheldon Solomon).
VOLUME 2.
Part III: The Social World.
21. EVOLUTIONARY SOCIAL PSYCHOLOGY (Steven L. Neuberg, Douglas T. Kenrick, and Mark Schaller).
22. MORALITY (Jonathan Haidt and Selin Kesebir).
23. AGGRESSION (Brad J. Bushman and L. Rowell Huesmann).
24. AFFILIATION, ACCEPTANCE, AND BELONGING: THE PURSUIT OF INTERPERSONAL CONNECTION (Mark R. Leary).
25. CLOSE RELATIONSHIPS (Margaret S. Clark and Edward P. Lemay, Jr.).
26. INTERPERSONAL STRATIFICATION: STATUS, POWER, AND SUBORDINATION (Susan T. Fiske).
27. SOCIAL CONFLICT: THE EMERGENCE AND CONSEQUENCES OF STRUGGLE AND NEGOTIATION (Carsten K. W. De Dreu).
28. INTERGROUP RELATIONS 1(Vincent Yzerbyt and Stéphanie Demoulin).
29. INTERGROUP BIAS (John F. Dovidio and Samuel L. Gaertner).
30. SOCIAL JUSTICE: HISTORY, THEORY, AND RESEARCH (John T. Jost and Aaron C. Kay).
31. INFLUENCE AND LEADERSHIP (Michael A. Hogg).
32. GROUP BEHAVIOR AND PERFORMANCE (J. Richard Hackman and Nancy Katz).
33. ORGANIZATIONAL PREFERENCES AND THEIR CONSEQUENCES (Deborah H. Gruenfeld and Larissa Z. Tiedens).
34. THE PSYCHOLOGICAL UNDERPINNINGS OF POLITICAL BEHAVIOR (Jon A. Krosnick, Penny S. Visser, and Joshua Harder).
35. SOCIAL PSYCHOLOGY AND LAW (Margaret Bull Kovera and Eugene Borgida).
36. SOCIAL PSYCHOLOGY AND LANGUAGE: WORDS, UTTERANCES, AND CONVERSATIONS (Thomas Holtgraves).
37. CULTURAL PSYCHOLOGY (Steven J. Heine).
AUTHOR INDEX.
SUBJECT INDEX.
"This, however, is the core book which ought to be acquired by every academic library catering for studies in human behaviour - psychology, sociology, anthropology or business studies." (Philosophy & Religion, November 2010)

[STARRED REVIEW] Not just a handbook, this can be considered the bible on social psychology. The two volumes consist of three parts: "The Science of Social Psychology," "The Social Being," and "The Social World." Fiske (psychology, Princeton Univ.), Daniel T. Gilbert (psychology, Harvard Univ.), and the late Gardner Lindzey (former president, American Psychological Assoc.) include 37 extensive articles written by world-renowned experts on such topics as the history of social psychology, social cognitive neuroscience, motivation, emotion, mind perception, morality, relationships, influence and leadership, and cultural psychology. The value of this set lies in the extensive coverage of each topic, including historical themes and overviews, leading research, practical examples, and a wealth of references. Each chapter is like reading a condensed book on the subject. As an example, the handbook illustrates how the critical contexts of each era, from the 1930s to the 2000s, affect group dynamics, attitudes, and social perception and cognition. There are numerous illustrations and diagrams that illuminate difficult topics. BOTTOM LINE Since its publication in 1935, this has proven to be the foremost reference for academics, researchers, and graduate students in psychology, as it offers the most current, well-researched, and thorough information in social psychology. In addition, the volumes are well written, and the information is accessible and valuable to a wide audience. Highly recommended.—Kathleen A. Welton, Chicago (Library Journal, May 1, 2010)