Handbook of Social Psychology, 5th Edition, Volume Two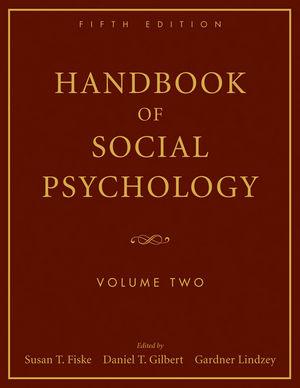 Handbook of Social Psychology, 5th Edition, Volume Two
ISBN: 978-0-470-13749-9
Feb 2010
848 pages
Description
The classic Handbook of Social Psychology has been the standard professional reference for the field of social psychology for many years. Now available in a new edition, Volume 2 of this internationally acclaimed work brings readers up to date with new chapters on social neuroscience, mind perception, morality, and social stratification. The editors have structured Volume 2 in a way that highlights the many levels of analysis used by contemporary psychologists. All academics, graduate students, and professional social psychologists will want to own a copy of this landmark work.
Buy Both and Save 25%!
Original Price:$220.00
Purchased together:$165.00
save $55.00
Cannot be combined with any other offers.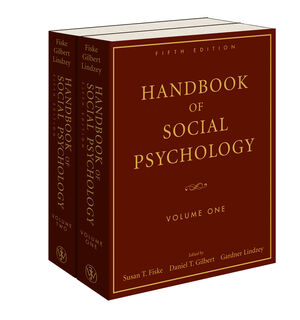 Original Price:$220.00
Purchased Together:$210.50
save $9.50
VOLUME 2.
Part III: The Social World.
21. EVOLUTIONARY SOCIAL PSYCHOLOGY (Steven L. Neuberg, Douglas T. Kenrick, and Mark Schaller).
22. MORALITY (Jonathan Haidt and Selin Kesebir).
23. AGGRESSION (Brad J. Bushman and L. Rowell Huesmann).
24. AFFILIATION, ACCEPTANCE, AND BELONGING: THE PURSUIT OF INTERPERSONAL CONNECTION (Mark R. Leary).
25. CLOSE RELATIONSHIPS (Margaret S. Clark and Edward P. Lemay, Jr.).
26. INTERPERSONAL STRATIFICATION: STATUS, POWER, AND SUBORDINATION (Susan T. Fiske).
27. SOCIAL CONFLICT: THE EMERGENCE AND CONSEQUENCES OF STRUGGLE AND NEGOTIATION (Carsten K. W. De Dreu).
28. INTERGROUP RELATIONS 1(Vincent Yzerbyt and Stéphanie Demoulin).
29. INTERGROUP BIAS (John F. Dovidio and Samuel L. Gaertner).
30. SOCIAL JUSTICE: HISTORY, THEORY, AND RESEARCH (John T. Jost and Aaron C. Kay).
31. INFLUENCE AND LEADERSHIP (Michael A. Hogg).
32. GROUP BEHAVIOR AND PERFORMANCE (J. Richard Hackman and Nancy Katz).
33. ORGANIZATIONAL PREFERENCES AND THEIR CONSEQUENCES (Deborah H. Gruenfeld and Larissa Z. Tiedens).
34. THE PSYCHOLOGICAL UNDERPINNINGS OF POLITICAL BEHAVIOR (Jon A. Krosnick, Penny S. Visser, and Joshua Harder).
35. SOCIAL PSYCHOLOGY AND LAW (Margaret Bull Kovera and Eugene Borgida).
36. SOCIAL PSYCHOLOGY AND LANGUAGE: WORDS, UTTERANCES, AND CONVERSATIONS (Thomas Holtgraves).
37. CULTURAL PSYCHOLOGY (Steven J. Heine).
AUTHOR INDEX.
SUBJECT INDEX.