Handbook of Sports Medicine and Science, Sports Nutrition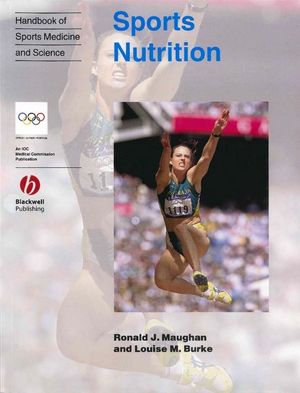 Handbook of Sports Medicine and Science, Sports Nutrition
ISBN: 978-0-632-05814-3
Nov 2002, Wiley-Blackwell
200 pages
Product not available for purchase
Description
Sports Nutrition, which focuses on the importance of proper nutritional preparation for athletes, provides a practical supplement to Nutrition in Sport. It provides an essential reference on all aspects of sports nutrition for the team coach, athletic trainer, physical therapist and allied health-related professional working with athletes and sports teams, and the knowledgeable athlete.
List of contributors, vi
Forewords by the IOC, viii
Preface, ix
Part 1 Nutrition needs for training
1 Exercise and energy demands, 3
2 Fuels used in exercise: carbohydrate and fat, 15
3 Protein and amino acid requirements of athletes, 26
4 Micronutrients: vitamins and minerals, 35
5 Fluids and electrolytes, 51
6 Alcohol and sport, 64
Part 2 Nutrition for competition
7 Preparation for competition, 75
8 Eating and drinking during exercise, 84
9 Post-event recovery, 93
Part 3 Practical sports nutrition
10 Assessing nutritional status and needs, 107
11 Changing size and body composition, 118
12 Dietary supplements and ergogenic aids, 129
13 Practical strategies to meet nutrition goals, 147
14 Eating well while traveling, 154
15 Strategies for special populations, 161
16 Strategies for special environments: heat, 173
Index, 183
Published Reviews of the First Edition
"Sports Nutrition provides the reader with a concise and accessible body of information in all of the major nutritional requirements of athletes and recreational enthusiasts."
Division of Nutritional Biochemistry, University of Nottingham
British Journal of Nutrition

"This book is a great resource for anyone working with athletes. It is a quick reference for a summary of the latest research in the area of sports nutrition and it provides practical recommendations for the sports professional working with athletes. The greatest strength of this book lies in the one or two case studies that accompany almost every chapter." (Kristine N Clark, MS, RCEP, @Doody's Review Service)
*an IOC Medical Commission publication
*includes text boxes within the chapters to highlight key points and summaries, together with examples of foods, meals and diets where appropriate
*a practical companion to Nutrition in Sport and will form an authoritative and easily understood overview of the underlying scientific principles and practical aspects of sports nutrition