Handbook of Sports Medicine and Science, Strength Training for Sport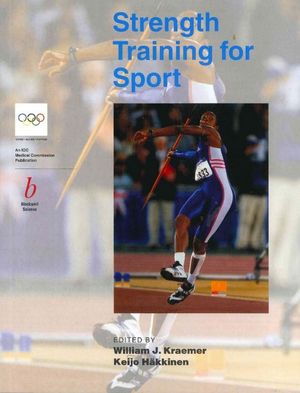 Handbook of Sports Medicine and Science, Strength Training for Sport
ISBN: 978-0-470-69875-4
Apr 2008, Wiley-Blackwell
200 pages
Description
A high-quality complement to the handbooks on particular sports, the handbookon Strength Training for Sport presents both the basic concepts and theoretical background for sports-specific strength training as well as the practical consideration in designing the overall program. Separate chapters deal with periodization, gender differences, detraining, and over training. Sample programs are presented for soccer, volleyball, wrestling, endurance running, swimming, and shot put and discus.
List of contributors, vi
Forewords by the IOC, vii
Preface, ix
Acknowledgements, x
1 A brief history of strength training and basic principles and concepts, 1
Andrew C. Fry and Robert U. Newton
2 Training-specific characteristics of neuromuscular performance, 20
Keijo Hakkinen
3 Developing a strength training workout, 37
William J. Kraemer
4 Periodization of training, 55
Steven J. Fleck
5 Periodized training programmes for athletes, 69
Hiroshi Hasegawa, Joseph Dziados, Robert U. Newton, Andrew C. Fry, William J , Kraemer and Keijo Hakkinen
6 Special considerations in strength training, 135
Andrew C. Fry, Keijo Hakkinen and William J. Kraemer
7 Medical aspects and administrative concerns in strength training, 163
William J. Kraemer and Joseph Dziados
Index, 177


an IOC Medical Commission publication


the book contains recommendations for supplementary reading, and includes hints on developing programmes in resistance exercise


contains the latest information on important issues in the field


has examples of programmes for the annual training cycle.