Handbook of Stimuli-Responsive Materials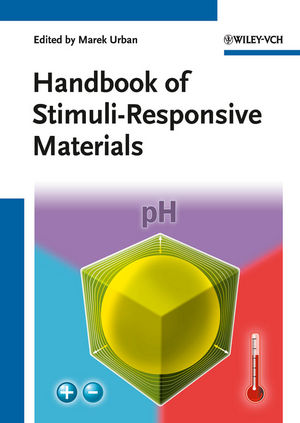 Handbook of Stimuli-Responsive Materials
ISBN: 978-3-527-63375-3
Feb 2011
296 pages
Description
Adopting a broad approach, this volume provides the scientific community with a much-needed overview of developments and scientific findings in stimuli-responsive materials. Its primary focus is on the designing, synthesizing, formulating, and processing of materials that lead to an understanding of the scientific principles governing response driven functions leading to future technologies.
The highly experienced and internationally renowned editor has assembled a team of leading scientists from the interdisciplinary areas of:

* polymers
* biopolymers
* biochemistry
* biophysics
* biomaterials
* bioengineering
* materials engineering
* biotechnology
* chemistry
* physics
* ceramics
* metals
* and materials science.

A combination that guarantees a unique and high-quality handbook.
Preface

SYNTHETIC AND PHYSICOCHEMICAL ASPECTS OF ADVANCED STIMULI-RESPONSIVE POLYMERS
Introduction
Controlled Free Radical Polymerization of Stimuli-Responsive Polymers
Synthesis of Stimuli-Responsive Colloidal Dispersions
Summary

BIOLOGICAL- AND FIELD-RESPONSIVE POLYMERS: EXPANDING POTENTIAL IN SMART MATERIALS
Introduction
Biologically Responsive Polymer Systems
Field-Responsive Polymers
Conclusions

SELF-OSCILLATING GELS AS STIMULI-RESPONSIVE MATERIALS
Introduction
Methodology
Results and Discussions
Conclusions

SELF-REPAIRING POLYMERIC MATERIALS
Introduction
Damage and Repair Mechanisms in Polymers
Summary

STIMULI-DRIVEN ASSEMBLY OF CHROMOGENIC DYE MOLECULES: A VERSATILE APPROACH FOR THE DESIGN OF RESPONSIVE POLYMERS
Introduction
Excimer-Forming Sensor Molecules
Fluorescent Mechanochromic Sensors
Thermochromic Sensors
Chemical Sensing with Excimer-Forming Dyes
Summary and Outlook

SWITCHABLE SURFACE APPROACHES
Introduction
Electroactive Materials
Photoresponsive Materials
pH-Responsive Materials
Thermoresponsive Materials
Switchable Surfaces Based on Supramolecular Shuttles
Switchable Surfaces Comprising DNA and Peptide Monolayers
Summary

LAYER-BY-LAYER SELF-ASSEMBLED MULTILAYER STIMULI-RESPONSIVE POLYMERIC FILMS
Introduction
Fabrication of Multilayer Polymer Coatings
Response of Multilayer Polymer Coatings to External Stimuli
Conclusion and Outlook

PHOTOREFRACTIVE POLYMERS
Introduction
The Photorefractive Effect in Polymers
The Two-Beam Coupling Effect
High-Performance Photorefractive Polymers
Experimental Techniques
Conclusions

PHOTOCHROMIC RESONSES IN POLYMER MATRICES
Introduction
Photochromic Polymeric Systems
Photochromic Systems
Outlook of Photochromic Materials

COVALENT BONDING OF FUNCTIONAL COATINGS ON CONDUCTIVE MATERIALS: THE ELECTROCHEMICAL APPROACH
Introduction
Electrodeposited Coatings
Electrografted Coatings
Compounds Requiring an Anodic Process
Compounds Requiring a Cathodic Process
Conclusions
"The book chapters are well selected, clearly written and well-organized and address a broad group of readers, including students, industrial scientists, and university scholars involved in the areas of biomaterials; polymer science, materials, and engineering; surface and colloidal science, coatings, nano- and biotechnology, sensors and actuators." (Materials Views, 1 January 2012)