Handbook of Thermal Analysis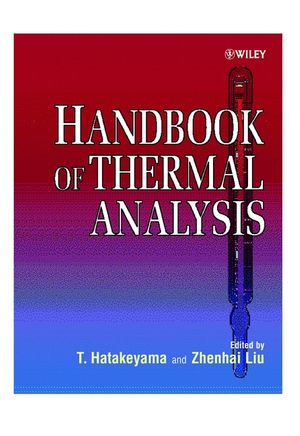 Handbook of Thermal Analysis
ISBN: 978-0-470-86383-1 November 2000 470 Pages
Description
Handbook of Thermal Analysis Edited by T. Hatakeyama National Institute of Materials and Chemical Research, Ibaraki, Japan Zhenhai Liu Changchun Institute of Applied Chemistry, China This 425-page reference book covers a comprehensive description of the principles of thermal analysis (TA) instruments, operating conditions, and the nature of the experimental data. Presented in a compact and well-arranged style with a large number of figures and illustrations, this work is divided into two parts. Part I is designed to acquaint and orient newcomers with TA by providing a comprehensive introduction to the basic principles of instrument operation, with advice on sample preparation and optimization of operating conditions, and a guide to interpreting results. The text deals primarily with techniques such as differential scanning calorimetry (DSC), differential thermal analysis (DTA), and thermogravimetry (TG). Part II illustrates 500 TA curves covering metals, inorganic and organic minerals, polymers, construction materials, pharmaceuticals, explosives, etc. The appendices include a glossary of TA terms, a survey of reference materials, the current table of TA standards, and a TA database. This book is aimed at advanced users and specialists who utilize TA methods for practical purposes, especially in research laboratories both academic and industrial. With an emphasis on practical instruction, industrial research staff, undergraduates and postgraduate students in the relevant fields will find this work a useful introduction to principle TA techniques.
THEORY OF TA.

Apparatus.

Measuring Conditions and Mathematical Treatment.

Transition Behavior.

Chemical Reactions.

Physical Parameters.

TA DATA.

Polymers.

Foods.

Pharmaceuticals.

Organic Materials.

Explosives.

Inorganic Materials Metals.

Appendix.