Handbook of Thick- and Thin-Film Hybrid Microelectronics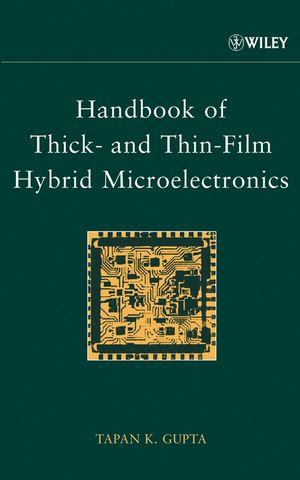 Handbook of Thick- and Thin-Film Hybrid Microelectronics
ISBN: 978-0-471-27229-8
Apr 2003
424 pages
Description
This is the first handbook on the fabrication and design of hybrid microelectronic circuits.
* Deals with all aspects of the technology, design, layout and processing of materials.
* Fills the need for a comprehensive survey of a widely-used technology.
Preface.
1- Introduction.
2- Mathematical Foundations Circuit Design, and Layout Rules for Hybrid Microcircuits.
3- Computer-Aided Design and Pattern Generation Techniques.
4- Thick-Film Fundamentals.
5- Thick-Film Deposition Techniques.
6- Thin-Film Fundamentals.
7- Thin-Film Deposition Techniques.
8- Component Assembly and Interconnections.
9- Adjustment of Passive Components.
10- Packaging and Thermal Considerations.
11- Multichip Module and Microwave Hybrids Circuits.
Glossary.
Index.
"…this handbook provides standard reference material for the hybrid microelectronics area, with a level of detail consistent with a handbook." (
MRS Bulletin
, April 2005)
"This book gives thorough coverage of these subjects; the descriptions are up to date, and cover the fundamentals, so the book should be useful for some time to come." (IEEE Electrical Insulation Magazine, November/December 2004)