Handbook of Toxicogenomics: A Strategic View of Current Research and Applications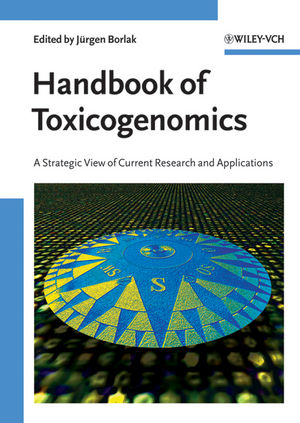 Handbook of Toxicogenomics: A Strategic View of Current Research and Applications
ISBN: 978-3-527-60371-8
May 2005, Wiley-Blackwell
705 pages
Description
Toxicogenomics is a new, dynamic and very promising field that can help optimize toxicity analyses and streamline research into active substances. It is of interest not only for basic research and development, but also from a legal and ethical perspective. Here, experts from all the fields mentioned will find solid information provided by an international team of experienced authors. With its approach as an interdisciplinary overview, it will prove particularly useful for all those needing to develop appropriate research strategies.
The authors work for major research institutions, such as the Fraunhofer Institute of Toxicology and Experimental Medicine (Germany), the German Cancer Research Center, the National Institute of Environmental Health Science (USA), the National Institute of Health Science (Japan) or for companies like Affymetrix, Altana Pharma, Bayer, Boehringer Ingelheim, Bruker, Merck, Nimblegen, Novartis, and Syngenta. Coverage ranges from the technology platforms applied, including DNA arrays or proteomics, via the bioinformatics tools required, right up to applications of toxicogenomics presented in numerous case studies, while also including an overview of national programs and initiatives as well as regulatory perspectives.
Walter Rosenthal, Director of the Research Institute for Molecular Pharmacology in Berlin, praises the book thus: "I would like to congratulate the publishers of this handbook, one that deals with a extremely hot topic. They have succeeded in gaining as authors leading representatives from this field. The Handbook impressively shows how modern genomic research is leading to rapid advances and new insights within toxicology."

Preface.
1 Introduction (Jürgen Borlak).
Technology Platforms in Toxicogenomics.
2 Expression Profiling using SAGE and cDNA Arrays (Andreas Bosio).
3 Oligo Arrays, Global Transcriptome Analysis (Jacques Retief, Earl Hubbell, and David Finkelstein).
4 Toxicogenomics Applications of Open-platform High Density DNA Microarrays (Mark McCormick and Emile F. Nuwaysir).
5 Mass Spectrometry and Proteomics: Principles and Applications (Uwe Rapp).
6 Covalent Protein Modification Analysis by Electrospray Tandem Mass Spectrometry (Wolf D. Lehmann).
7 Chromatin Immunoprecipitation-based Identification of Gene Regulatory Networks (Monika Niehof and Jürgen Borlak).
8 NMR Spectroscopy as a Versatile Analytical Platform for Toxicology Research (Olivia Corcoran).
Bioinformatic Tools in Toxicogenomics.
9 Generation and Validation of a Reference System for Toxicogenomics DNA Microarray Experiments (Jürgen Cox, Hans Gmünder, Andreas Hohn, and Hubert Rehrauer).
10 The Chemical Effects in Biological Systems (CEBS) Knowledge Base (Michael D. Waters, Gary Boorman, Pierre Bushel, Michael Cunningham, Rick Irwin, Alex Merrick, Kenneth Olden, Richard Paules, James K. Selkirk, Stanley Stasiewicz, Ben Van Houten, Nigel Walker, Brenda Weis, Honghui Wan, and Raymond Tennant).
11 Investigating the Effective Range of Agents by Using Integrative Modelling (Andreas Freier, Ralf Hofestädt, and Thoralf Toepel).
12 Databases and Tools for in silico Analysis of Regulation of Gene Expression (Alexander Kel, Olga Kel-Margoulis, and Edgar Wingender).
13 Systems Biology Applied to Toxicogenomics (Klaus Prank, Matthias Höchsmann, Björn Oleson, Thomas Schmidt, Leila Taher, and Dion Whitehead).
Application of Toxicogenomic: Case Studies.
14 Regulatory Networks of Liver-enriched Transcription Factors in Liver Biology and Disease (Jürgen Borlak, Jürgen Klempnauer, and Harald Schrem).
15 Toxicogenomics Applied to Understanding Cholestasis and Steatosis in the Liver (Timothy W. Gant, Peter Greaves, Andrew G. Smith, and Andreas Gescher).
16 Toxicogenomics Applied to Cardiovascular Toxicity (Thomas Thum and Jürgen Borlak).
17 Toxicogenomics Applied to Endocrine Disruption (Damian G. Deavall, Jonathan G. Moggs, and George Orphanides).
18 Toxicogenomics Applied to Teratogenicity Studies (Philip G. Hewitt, Peter-J. Kramer, and Jürgen Borlak).
19 Toxicogenomics Applied to Nephrotoxicity (Anke Lühe and Heinz Hildebrand).
20 Toxicogenomic Analysis of Human Umbilical Cords to Establish a New Risk Assessment of Human Foetal Exposure to Multiple Chemicals (Masatoshi Komiyama and Chisato Mori).
21 Genetic Variability: Implications for Toxicogenomic Research (Gilbert Schönfelder, Dieter Schwarz, Thomas Gerloff, Martin Paul, and Ivar Roots).
22 Profiling of Peripheral Blood Gene Expression to Search for Biomarkers (Arno Kalkuhl and Mario Beilmann).
23 How Things Could Be Done Better Using Toxicogenomics: A Retrospective Analysis (Laura Suter and Rodolfo Gasser).
24 Toxicogenomics Applied to Hematotoxicology (Yoko Hirabayashi and Tohru Inoue).
The National Toxicogenomic Program/Initiatives.
25 The National Toxicogenomics Program (James K. Selkirk, Michael D. Waters, and Raymond W. Tennant).
26 Toxicogenomics: Japanese Initiative (Tetsuro Urushidani and Taku Nagao).
Point of View from Regulatory Authorities and Ethical Aspects.
27 Toxicogenomics in Need of an ICH Guideline? Experiences from the Past (Frauke Meyer and Gerd Bode).
Subject Index.
"…one of the few volumes that provide an overview of a field that will increasingly impact us in our daily work, and to which pathologists have a great deal to contribute." (
Veterinary Pathology
, November 2005)
"In summary, the handbook is written by many of the leaders in the field and provides a comprehensive overview of the interdisciplinary field of toxicogenomics.... both skilled practitioners and those new to the field will find something worthwhile and interesting in this comprehensive handbook." (ChemBioChem)