Handbook of Transition Metal Polymerization Catalysts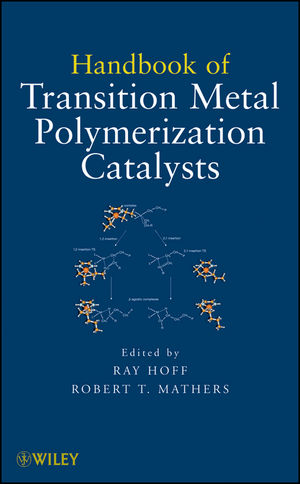 Handbook of Transition Metal Polymerization Catalysts
ISBN: 978-0-470-50442-0
Sep 2010
640 pages
Description
A one-stop resource for understanding and applying polymerization catalysts
An edited volume featuring contributions from leading researchers, the Handbook of Transition Metal Polymerization Catalysts covers the design and synthesis of catalysts, and their applications in synthesis of polymers. Dealing with those polymerization catalysts that afford commercially acceptable yields of polymer with respect to catalyst mass and promising newer catalysts, this practical reference provides polymer and organic chemists with a comprehensive overview of the known methods for developing and applying these important catalysts.
With both recent advances and historically important catalysts, the subjects covered in this text include:
Metal alkyls and other compounds that function as co-catalysts with a large number of catalysts
The varieties of porous silica either necessary or valuable in certain catalyst formulations
Catalyst scale-up and commercialization
Copper catalysts for olefin polymerization
Morphology control
Along with the above topics, the Handbook of Transition Metal Polymerization Catalysts provides tables of valuable data to assist in reproducing a synthesis or applying the knowledge to a new problem. Polymerization reactivities, polymer properties, monomer and solvent purity requirements, molecular weights, distribution, and reactivity ratios are also covered. The Handbook of Transition Metal Polymerization Catalysts offers an excellent one-stop resource for understanding and applying polymerization catalysts.
Introduction.
About the Authors.
1 Commercially Available Metal Alkyls and Their Use in Polyolefin Catalysts (Dennis B. Malpass).
2 Porous Silica in Transition Metal Polymerization Catalysts (Thomas J. Pullukat and Robert E. Patterson).
3 Computational Modeling of Polymerization Catalysts (Monika Srebro and Artur Michalak).
4 Scale-Up of Catalyst Recipes to Commercial Production (C.P. Cheng).
5 Commercialization of Olefin Polymerization Catalysts: Model for Success (C. E. Capshew).
6 Supported Magnesium/Titanium-Based Ziegler Catalysts for Production of Polyethylene (Thomas E. Nowlin, Robert I. Mink, and Yury V. Kissin).
7 Stereospecific α-Olefin Polymerization with Heterogeneous Catalysts (John Severn and Robert L. Jones, Jr.).
8 MgCl2-Supported TiCl4 Catalysts for Production of Morphology-Controlled Polyethylene (Long Wu and Sieghard E. Wanke).
9 Product Morphology in Olefin Polymerization with Polymer Supported Metallocene Catalysts (Long Wu and Sieghard E. Wanke).
10 Review of Phillips Chromium Catalyst for Ethylene Polymerization (Max P. McDaniel).
11 Silica-Supported Silyl Chromate-Based Ethylene Polymerization Catalysts (Kevin Cann).
12 Ethylene Polymerization and α-Olefin Oligomerization Using Catalysts Derived from Phosphoranes and Ni(II) and Ni(0) Precursors (Scott Collins).
13 Late Transition Metal-Catalyzed Co- and Terpolymerization of α-Olefins with Carbon Monoxide-Polyketones: Synthesis and Modification (Timo M. J. Anselment, Manuela Zintl, Maria Leute, Rüdiger Nowack and Bernhard Rieger).
14 Copper Catalysts for Olefin Polymerization (Anna Maria Raspolli Galletti).
15 Ring-Opening Metathesis Polymerizations and Acyclic Diene Metathesis Polymerizations with Homogeneous Ruthenium and Molybdenum Catalysts and Initiators (Robert T. Mathers).
16 Cobalt Ziegler-Natta Catalysts for the Synthesis of Poly-cis-1,4-Butadiene (Ray Hoff).
Appendix A Pyrophoricty of Metal Alkyls (Dennis B. Malpass).
Appendix B Rheological Terms for Polymerization Catalyst Chemists (Gregory W. Kamykowski).
Index.