Handbook of Tuberculosis , 3 Volume Set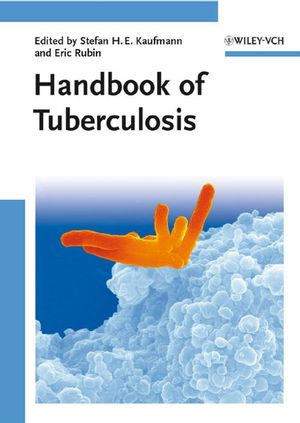 Handbook of Tuberculosis , 3 Volume Set
ISBN: 978-3-527-31683-0
Mar 2008, Wiley-Blackwell
1350 pages
Description
Coinciding with the first TB therapies to enter clinical trials in 60 years, this is the most comprehensive account of the latest developments in clinical, therapeutic and basic research into the disease, presented by the most prolific of all researchers in the field.
Divided into three clearly structured volumes, the first deals with molecular biology and biochemistry of the pathogen, including genetics and genomics, as well as drug design. The second volume covers cell biology, immunology and vaccine development, while the third is devoted to epidemiology and clinical approaches, including drug resistance, veterinary aspects and clinical field trials.
With one new infection worldwide every second, this is an essential reference for bacteriologists, immunologists, pathologists and pathophysiologists, molecular and cell biologists, as well as those working in the pharmaceutical industry.
Buy Both and Save 25%!
Original Price:$1,077.00
Purchased together:$807.75
save $269.25
Cannot be combined with any other offers.
VOLUME 1: MOLECULAR BIOLOGY AND BIOCHEMISTRY
Tuberculosis -
Molecular Genetics and Biochemistry: Introduction
Biochemistry of the Cell Wall
Glycolipids and Polyketides of M. tuberculosis
Physiology of M. tuberculosis
Nutrient Transport
Iron Uptake by M. tuberculosis
Protein Transport
PE and PPE Gene Family Members in M. tuberculosis
Virulence/Persistence Mechanisms of M. tuberculosis
Genomics
Transcriptomics and Transcriptional Regulation
Proteomics of M. tuberculosis
Structure
Molecular Mechanisms of Dormancy and Resuscitation
M. tuberculosis in the Phagosome
Molecular Mechanisms of Drug Resistance of M. tuberculosis
Experimental Genetics of M. tuberculosis
Molecular Evolution of Mycobacteria

VOLUME 2: IMMUNOLOGY AND CELL BIOLOGY
Introduction: Immunity to M. tuberculosis and BCG
Recognition Receptors and Phagocytosis for M. tuberculosis
Transcriptional Response of Macrophages and Dendritic Cells to M. tuberculosis
Dendritic Cells and Antigen Presentation
Killing Mechanisms of the Host Against M. tuberculosis
Manipulation of the Macrophage Response
Conventional T Cells and their Antigenic Repertoire
Unconventional T Cells
Cytokines in Tuberculosis
Antibodies in Tuberculosis
Pathology
Maintenance of Latent Infection with Correlates of Protective Immunity
Genetics of Resistance (mouse and man)
HIV/TB Interactions
Novel Vaccination Strategies Against Tuberculosis
Experimental Animal Models of Tuberculosis

VOLUME 3: CLINICS DIAGNOSTICS THERAPY AND EPIDEMIOLOGY
Clinics Diagnostics Therapy Epidemiology: Introduction
Global Epidemiology of Tuberculosis
Surveillance Studies and Interpretation
Molecular Epidemiology of M. tuberculosis
Diagnosis of M. tuberculosis: Clinical
Clinical Disease (with and without HIV)
Management of Tuberculosis Patients
Chemotherapy
New Drugs and Clinical Drug Trials
Latency
Drug Resistance in Clinical Context
Novel Drug Treatment Strategies -
Co-infections
Modeling
BCG Vaccination
"
Handbook of Tuberculosis
is a very useful tool for clinicians who care for patients with tuberculosis. It is also useful to researchers due to the comprehensive information provided on immunology, cell biology, molecular biology, and biochemistry." (
Annals of Pharmacotherapy
, November 2008)
"Essential reading for those working in both academic and industrial research … It is the most comprehensive book on this topic available." (Anticancer Research 28: 2008)