Handbook of U.S. Colorants: Foods, Drugs, Cosmetics, and Medical Devices, 3rd Edition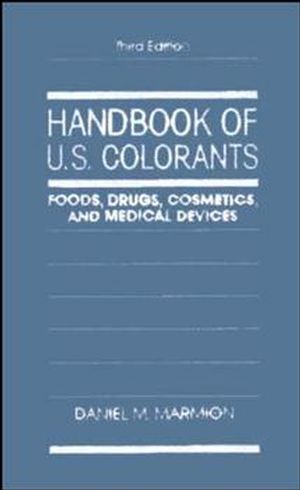 Handbook of U.S. Colorants: Foods, Drugs, Cosmetics, and Medical Devices, 3rd Edition
ISBN: 978-0-471-50074-2
Oct 1991
592 pages
Description
A collection of information on the use of color additives in the food, cosmetic and medical industries. This Third Edition documents important recent developments such as newly listed products, delisted products, modernized specifications and improved analytical technology, new manufacturers and suppliers. A general background of color additives is given including their history, regulation, areas of use and purity requirements.
HISTORY, REGULATION, DESCRIPTION, AND USE.

Areas of Use.

Regulations Governing Use.

Certified Colorants.

Colorants Exempt from Certification.

COLORANT ANALYSIS.

Identification.

Determination of Strength.

Insoluble Matter.

Inorganic Salt Content.

Metals.

Organic Impurities.

Uncombined Intermediates and Other Low-Molecular-Weight Impurities.

Homologous, Isomeric, and Other Related Colorants.

RESOLUTION OF MIXTURES AND ANALYSIS OF COMMERCIAL PRODUCTS.

Resolution of Mixtures.

Analysis of Commercial Products.

Index.