Handbook of the Psychology of Interviewing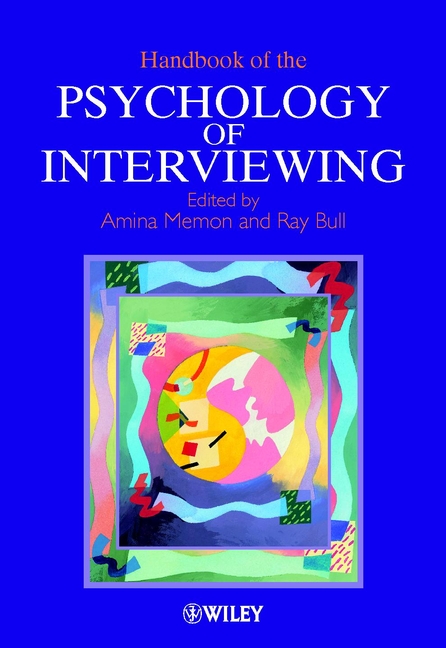 Handbook of the Psychology of Interviewing
ISBN: 978-0-471-49888-9 March 2001 380 Pages
Description
The interview is one of the most used methods within psychology, and effective interviewing skills can be one of the most useful qualities you can possess. This Handbook provides an authoritative text on the psychology of interviewing,reviewing diagnosis and assessment in several contexts, such as: social, medical, forensic and occupational.

Each chapter explores issues of methodology, theory,development and practice. Written in an easy-to-understand style it will be accessible to a range of practitioners including psychologists, psychiatrists, social workers, doctors and lawyers.

NEW PAPERBACK VERSION
- The first and only handbook on the psychology of interviewing.
- Professional guidance for anyone who needs interviewing skills -social workers,market researchers,therapists etc.
- Presents breath of knowledge by covering a wide range of interviewing techniques and contexts.
- Well-known editors,and a lead editor with extensive publishing experience.
About the Editors.
List of Contributors.
Preface.
INTERVIEWS IN MENTAL HEALTH.

Diagnostic Interviewing in Mental Health Care: Methods, Training and Assessment (S. Bögels).

The Hypnotic Interview: Conceptual and Technical Considerations (S. Lynn, et al.).
Interviewing the Survivor of the Holocaust: Lessons for the Advancement of Understanding of the Effects of Extreme Child Trauma (C. Dalenberg & J. Epstein).

SPECIAL INTERVIEWING TOOLS.

Motivational Interviewing (A. Terry).

The Psychology of Interpersonal Skill (O. Hargie & D. Tourish).

Interview in Qualitative Research (S. Payne).

The Survey Interview (D. Wright).

Using Focus Groups in Social Research (M. Hennink & I. Diamond).

SENSITIVE INTERVIEWING.

Interviewing on Sensitive Topics (R. Ingham, et al.).

Interviewing Children with Learning Disabilities (R. Milne).

Interviewing Spine Surgery Candidates: Presurgical Psychological Screening (C. Pladziewicz & A. Block).

Ethics of Qualitative Interviewing in Grieving Families (P. Rosenblatt).

INTERVIEWING IN ORGANISATIONAL CONTEXTS.

The Employment Interview (D. Whetzel & M. McDaniel).

The Interview as a Usability Tool (M. Young & N. Stanton).

The Employment Interview and Race: A Review (A. Prewett-Livingston & H. Feild).

INTERVIEWING FOR FORENSIC PURPOSES.

Forensic Interviews of Children (M. Lamb, et al.).
Police Investigative Interviewing (R. Bull).

Frames of Mind: Schemata Guiding Cognition and Conduct in the Interviewing of Suspected Offenders (A. Mortimer & E. Shepherd).

Interviewing to Detect Deception (A. Vrij).

Police Interviewing and Disputed Confessions (G. Gudjonsson).

Interviewing Witnesses: The Cognitive Interview (A. Memon).

Index.