Handheld Computers for Doctors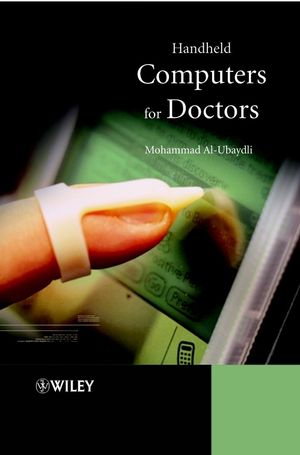 Handheld Computers for Doctors
ISBN: 978-0-470-85901-8 January 2005 160 Pages
Description
This is the first book to address the uses of handheld computers within clinical practice and considers the many different possible applications of handheld computers in a medical environment.
The book champions the idea that handheld computers have a significant role to play in the future of clinical practice. It shows why and how these devices can help reduce paperwork, and how to use the technology without waiting for the IT department's latest expensive, complicated and overdue solution. 
The book is in three sections:


Explains that handhelds, far from futuristic gadgets, are today's technology benefiting clinicians around the world. The ten chapters guide the user through all possible applications of these machines.
Looks at three teams that put the handhelds to different clinical uses.


Explains the tools and techniques that are useful in introducing the technology to a group.


If you work in hospital or community medicine, you can take advantage of technology that is affordable, powerful, easy and effective. Handheld computers can be used for education, administration and clinical practice, and in association with colleagues to support communication and teamwork.

Table of contents
About the Author.
Preface.
Section One: Why Star Trek is science past.
So, you'd like a handheld.
Choosing hardware.
Choosing software for yourself.
Organizing your life.
Taking lecture notes.
Keeping track of patient details.
Medical references.
Reading electronic books.
Games for ward rounds.
Carrying the web with you.
Handhelds for patients.
Section Two: Why two handhelds are better than one.
Case 1 - The haematology department.
Case 2 - The General Practice surgery.
Case 3 - The acute medicine department.
Section Three: On being a project champion.
Making change happen.
Talking to the IT department.
Choosing software for the team.
Training.
Electronic documents.
Getting the funding.
Appendix: Accompanying website.
Index.
Reviews
"…contains information that all hospital and health practitioners may find useful…highly recommended for hospital libraries and libraries affiliated with schools that provide health care education." (
E-STREAMS
, November 2004)
"...The book is sincere and detailed...I recommend this book as a down-to-earth account..." (British Medical Journal, 17 March 2003)
"...provides good tips for the medial student with a PDA..." (Biomedical Informatics Today, Spring 2003)
"...a handy volume designed to encourage doctors to take up the PDA habit..." (Handheldsfordoctors.com, 8 April 2003)
"...I would encourage all health care providers to read this book and make use of this fast-growing technology when manageing patients". (Practical Diabetes International, October 2003)
"...written in a very informal style that clinicians can read easily and understand quickly..." (Jnl of the American Medical Informatics Assoc, 2003)
"...very useful to all who use handhelds, giving them insight into new and alternative uses..." (European Journal of Paediatric Neurology, Vol 8, 2004)