Handmade Beginnings: 24 Sewing Projects to Welcome Baby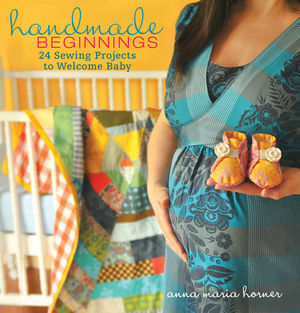 Handmade Beginnings: 24 Sewing Projects to Welcome Baby
ISBN: 978-0-470-49781-4
May 2010
160 pages
Product not available for purchase
Description
24 sewing projects that celebrate the joy of a new baby



Come stitch alongside celebrated fabric designer Anna Maria Horner as she prepares for her own new baby. This stunning collection of nursery décor, keepsakes, maternity wear, baby?s clothing, and more is all breathtakingly photographed as Anna Maria progresses through her pregnancy.

Mothers-to-be, grandparents, family, and friends will treasure this collection of sewing projects to welcome home a new baby. Stylish prints and colors combine in unique designs to give you 24 projects ranging from booties and a quilt to an embroidered family tree and a thank you note organizer?and everything in between.
Includes seven bonus loose-leaf paper patterns neatly tucked inside
Includes a brief primer on sewing for babies, including fabric selection and safety considerations
Other titles by Horner: Seams to Me
Saturated with gorgeous full-color photography, Handmade Beginnings gives new and veteran sewers colorful, contemporary, yet classic, patterns to mark one of life?s biggest milestones.
Introduction.
Introduction.
Chapter 1: Baby Steps.
Chapter 2: Mama Sewing.
Early Empire Cinch.
Thank You Notebook.
Flower Bed Slippers.
Four Corners Blouse.
Lingering Layers Skirt.
Here We Go Bag.
Mariposa Dress and Tunic.
Chapter 3: Baby Sewing.
Cute-as-a-Button Booties.
Quick Change Trousers.
Patchwork Sleeping Sack.
Pretty-as-a-Picture Dress.
Baby-in-the-Hood Jacket.
Chapter 4: Family Sewing.
Patchwork Welcome Notes.
Swaddled Baby Love.
Family Portrait Tree.
Dad Bag.
Center of Attention Quilt.
Chapter 5: Nest Sewing.
Nesting Cubes.
Henny Penny and Six Chicks.
Scrappy Nap Pillow.
Daydreams Mobile and Lampshade.
Writing on the Walls.
Hide and Seek Spectrum Quilt.
Sixth Time's the Charm Crib Quilt.
Index.