Hannah Arendt and the Jewish Question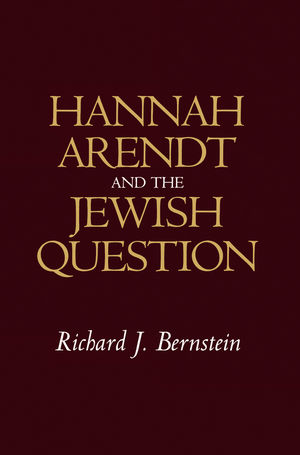 Hannah Arendt and the Jewish Question
ISBN: 978-0-745-66570-2
May 2013, Polity
250 pages
Description
Hannah Arendt is increasingly recognised as one of the most original social and political thinkers of the twentieth century. In this important book, Richard Bernstein sets out to show that many of the most significant themes in Arendt's thinking have their origins in their confrontation with the Jewish Question. By approaching her mature work from this perspective, we can gain a richer and more subtle grasp of her main ideas.

Bernstein discusses some of the key experiences and events in Arendt's life story in order to show how they shaped her thinking. He examines her distinction between the Jewish parvenu and the pariah, and shows how the conscious pariah becomes a basis for understanding the independent thinker. Arendt's deepest insights about politics emerged from her reflections on statelessness, which were based on her own experiences as a stateless person. By confronting the horrors of totalitarianism and the concentration camps, Arendt developed her own distinctive understanding of authentic politics - the politics required to express our humanity and which totalitarianism sought to destroy.

Finally, Bernstein takes up Arendt's concern with the phenomenon of the banality of evil. He follows her use of Eichmann in order to explore how the failure to think and to judge is the key for grasping this new phenomenon.

Hannah Arendt and the Jewish Question offers a new interpretation of Arendt and her work - one which situates her in her historical context as an engaged Jewish intellectual.
Preface.
Abbreviations.
Introduction.
1. The Conscious Pariah as Rebel and Independent Thinker.
2. Anti-Semitism as a Political Ideology.
3. Statelessness and the Right to Have Rights.
4. The Descent into Hell.
5. Zionism: Jewish Homeland or Jewish State?.
6. 'The Innermost Story of the Modern Age': Revolutions and the Council System.
7. From Radical Evil to the Banality of Evil: From Superfluousness to Thoughtlessness.
8. Evil, Thinking, and Judging.
9. Concluding Remarks: Blindness and Insight.
Notes.
Bibliography.
Index of Subjects.
Index of Names.
"Richard Bernstein's excellent study completely succeeds in reintegrating Hannah Arendt's disparate body of work around a central Jewish theme. This is a deeply thoughtful, challenging reading of a thinker whom Gershom Scholem perceptively called 'a daughter of our people.'"
Jewish Chronicle
"Highly readable." German Politics
"This is an extremely readable book which advances a straightforward and ungainsayable thesis: Hannah Arendt's concern with the Jewish question was central to the development of her theories. It is thus an interpretation of Arendt through the lens of her Jewish experience and has the freshness and vitality that Bernstein claims to have felt when he read her from such a perspective. Bernstein's book is a fascinating read ... one of its pleasure is the way that it opens the discussion. It does much else besides - for example, a re-examination of Arendt's concepts of the banality of evil and radical evil. Whatever you think of the arguments, you will enjoy the read, whether you are using the book as an introduction to her thought, or are looking for fresh insights into Arendt. It is a real accomplishment to have written a study that works on both levels." Radical Philosophy
* A major new interpretation of Hannah Arendt's work which highlights the relation between her key ideas and her Jewish background.
*Situates Hannah Arendt's work in its historical context and shows how the pivotal events of her life shaped her thinking.
*Richard J. Bernstein is one of the leading philosophers in the english-speaking world and well known for his many books in social and political philosophy.