Happiness For Dummies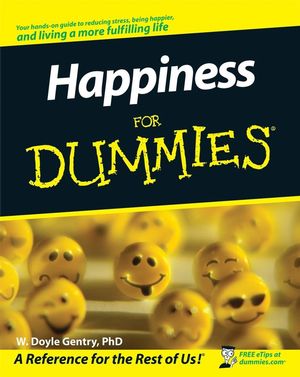 Happiness For Dummies
ISBN: 978-0-470-28171-0 July 2008 256 Pages
Description
Now, you can find the happiness you want and live "the good life" you deserve by applying the helpful information in
Happiness For Dummies
, the ultimate guide to achieving bliss!   You'll discover proven techniques for living a meaningful, healthy, and productive life no matter what your life circumstances happen to be. Positive concepts and techniques will help you change key behaviors, foster good habits, and be in sync with your surroundings.
This helpful guide will give you the chance to assess your happiness and understand what it means to be happy at each stage of self-actualization. You'll learn why having positive emotions can improve your health and well-being. And, you will find out what happiness isn't and how to avoid confusing happiness with culturally valued outcomes like wealth, power, and success. Pursue what you want, seize the day, find benefits in life's challenges, and live a coherent lifestyle. Find out how to:
Assess your current capacity for happiness
Live the life that you want
Overcome common obstacles to happiness
Identify your strengths and virtues
Improve your emotional and spiritual life
Create meaningful social ties and learn to be alone
Find the silver lining
Complete with lists of ten ways to raise a happy child, ten common roadblocks to happiness, and ten personal habits to foster happiness, Happiness For Dummies is your one-stop, easy-to-follow guide to being happy and living your best life.
Table of contents
Introduction.
Part I: Defining Happiness.
Chapter 1: Anyone Can Be Happy.
Chapter 2: The Recipe for Happiness.
Chapter 3: Knowing What Happiness Isn't.
Chapter 4: Seeing Happiness as a Sign, Not a Symptom.
Part II: Personality Attributes That Lead to Happiness.
Chapter 5: Optimism.
Chapter 6: Hardiness.
Chapter 7: Conscientiousness.
Part III: Behaving Your Way Toward Happiness.
Chapter 8: Getting into Flow.
Chapter 9: Finding Benefit in Life's Challenges.
Chapter 10: Living a Coherent Lifestyle.
Chapter 11: Making a Daily Confession.
Chapter 12: Putting On a Happy Face.
Part IV: Striking the Right Balance.
Chapter 13: Hassles versus Uplifts.
Chapter 14: Structure versus Freedom.
Chapter 15: Work versus Paly.
Chapter 16: Socialization versus Solitude.
Chapter 17: Selfishness versus Generosity.
Part V: Achieving Happiness in Key Relationships.
Chapter 18: At Work.
Chapter 19: At Home.
Chapter 20: In Intimate Relationships.
Part VI: The Part of Tens.
Chapter 21: Ten Ways to Raise a Happy Child.
Chapter 22: Ten Roadblocks to Happiness.
Chapter 23: Ten Things You Can Do Today to Foster Happiness in Your Life.
Chapter 24: Ten Thoughts That Lead to Happiness.
Appendix: Resources.
Index.