Hard Truths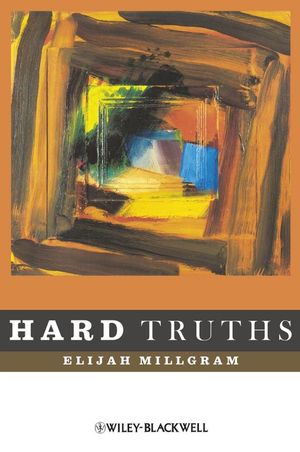 Hard Truths
ISBN: 978-1-405-18815-9 April 2009 Wiley-Blackwell 312 Pages
Description
Hard Truths is a groundbreaking new work in which noted philosopher Elijah Millgram advances a new approach to truth and its role in our day-to-day reasoning.
Takes up the hard truths of real reasoning and draws out their implications for logic and metaphysics
Introduces and takes issue with prevailing views of the purpose of truth and the way we reason, including deflationism about truth, possible worlds treatments of modality, and antipsychologism in philosophy of logic
Develops philosophically ambitious ideas in a style accessible to non-specialists
Will make us rethink the place of metaphysics in our daily lives
Acknowledgments
1. Introduction
Part I: Motivation
2. The Truth in Bivalence
3. Deflating Deflationism
Part II: Arguments
4. How to Find Your Match
5. Unity of the Intellect
6. How Can We Think about Partial Truth?
Part III: The Competition
7. Logics of Vagueness
Part IV: Applications
8. The Quinean Turn
9. The Davidsonian Swerve
10. The Lewis Twist: Mind Over Matter
11. The Bare Necessities
12. Conclusion: Metaphysics as Intellectual Ergonomics
Appendix: Was There Anything Wrong with Psychologism?
Notes
References
Index
"Everyone with a serious interest in philosophy should confront the implications of this work. It will appeal to all who are willing to face hard truths about reasoning." (CHOICE, December 2009)

"Millgram's book presents entirely different and original arguments … .Ambitious in a way that few philosophy books are anymore … .Provocative [and] inspiring." (Notre Dame Philosophical Reviews, November 2009)
Takes up the hard truths of real reasoning and draws out their implications for logic and metaphysics

Introduces and takes issue with prevailing views of the purpose of truth and the way we reason, including deflationism about truth, possible worlds treatments of modality, and antipsychologism in philosophy of logic

Develops philosophically ambitious ideas in a style accessible to non-specialists

Will make us rethink the place of metaphysics in our daily lives