Harm to Others: The Assessment and Treatment of Dangerousness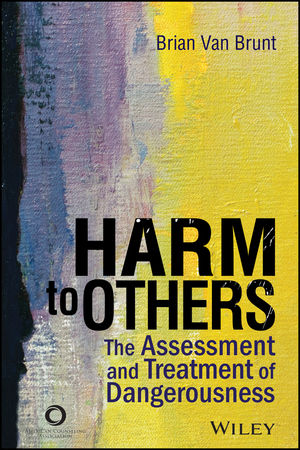 Harm to Others: The Assessment and Treatment of Dangerousness
ISBN: 978-1-119-22167-8
Nov 2015
272 pages
Description
Harm to Others offers students and clinicians an effective way to increase their knowledge of and training in violence risk and threat assessment, and it also provides a comprehensive examination of current treatment approaches. Although the text includes many examples from K–12 and college/university settings, which are particularly relevant for mental health professionals in school settings, the underlying concepts and suggestions are useful for counselors, psychologists, and social workers who face these issues in their daily practice.
In an easy-to-understand, jargon-free manner, Dr. Van Brunt shares his observations, extensive clinical expertise, and the latest research on what clinicians should be aware of when performing risk and threat assessments. In addition, he offers numerous examples from recent mass shootings and rampage violence to help explain the motivations and risk factors of those who make threats. Two detailed case examples are presented to illustrate key concepts related to assessing dangerousness. Treatment options are then described, using a variety of diverse case studies to demonstrate concrete approaches for clients who have been identified as at risk for violence following a threat assessment.


*Requests for digital versions from the ACA can be found on wiley.com.
*To request print copies, please visit the ACA website here.
*Reproduction requests for material from books published by ACA should be directed to permissions@counseling.org.
Preface vii
About the Author xi
PART 1 Assessment of Violence
Chapter 1 Understanding Violence 5
Chapter 2 Preparing for the Assessment 23
Chapter 3 Case Studies 41
Chapter 4 Central Threat Concepts 79
Chapter 5 Additional Threat Concepts 93
Chapter 6 Risk Factors Identified in the Literature 109
Chapter 7 Structured Professional Judgment 121
PART 2 Treatment of Dangerousness
Chapter 8 Learning to Listen 143
Chapter 9 Understanding Their Story 153
Chapter 10 Learning to Think Differently 165
Chapter 11 Taking It Step by Step 175
Chapter 12 Searching for Meaning 187
Chapter 13 Case Studies Treatment Summary 199
Appendix A On-Campus Risk Assessment Informed Consent 209
Appendix B Off-Campus Provider Questions 213
Appendix C The Structured Interview for Violence Risk Assessment (SIVRA-35) 215
Appendix D ATAP "Risk Assessment Guideline Elements for Violence: Considerations for Assessing the Risk of Future Violent Behavior" 219
Appendix E Reality Therapy WDEP Worksheet 231
Appendix F An Existential Exercise 233
References 235
Index 245