Harvey Sacks: Social Science and Conversation Analysis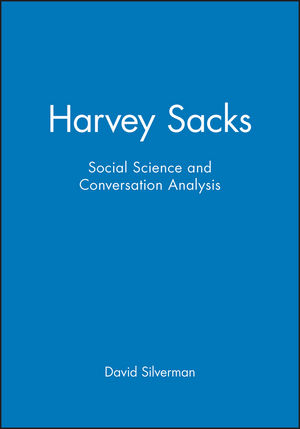 Harvey Sacks: Social Science and Conversation Analysis
ISBN: 978-0-745-61710-7
Sep 1998, Polity
232 pages
Description
Harvey Sacks's early death in 1975 robbed the social sciences of one of its most original thinkers. Although he published relatively little in his lifetime, his lectures and papers were enormously influential in sociology and sociolinguistics and they played a major role in the development of ethnomethodology and conversation analysis. The recent publication of Sacks's Lectures on Conversation has provided an excellent opportunity for a wide-ranging reassessment of his contribution.


In this new book, David Silverman provides a clear introduction to Sack's work and reassesses its value for sociology, linguistics, anthropology and psychology. Using a variety of examples, he explains Sacks's ideas on method, language and talk-in-interaction. He argues that Sacks's work offers a highly original perspective on language and social life and raises fundamental questions for the social sciences - questions which, after more than twenty years, remain vitally important and largely unanswered.


Written in a lively and accessible way, this book will be of particular interest to students of sociology, sociolinguistics, social theory and method, but it will also be of interest to students and researchers in anthropology, psychology and related disciplines.
Preface.
1. Beginnings.
2. An Intellectual Biography.
3. Social Science.
4. Method.
5. Membership Categorization Analysis.
6. Conversation Analysis.
7. Using Membership Categorization Analysis.
8. Using Conversation Analysis.
9. Sacks's Legacy.
Appendix 1. Simplified Transcription Symbols and Selected Abbreviations.
Appendix 2. Sacks's Lectures: Some Key References.
Appendix 3. Summaries of Sacks's Major Published Papers.
References.
Name Index.
Subject Index.
'David Silverman is to be thanked for leading the novice and the expert through the complex, heretofore underground corpus of Harvey Sacks's work. Finally, the social science community can study and learn from Sacks's pathbreaking studies of talk and conversational analysis. The social science community in the field of everyday life studies owes Silverman a great debt.'
Norman K. Denzin, University of Illinois
'Harvey Sacks, as they say, was an original. David Silverman provides a thoughtful, lucid account of his penetrating work. I urge anyone concerned with occurring speech to read this book. One's sense of how to interpret what is said will be changed. Even if one does not adopt the approach, one will have an essential landmark and reference point to inform what one does oneself.' Dell Hymes, University of Virginia

'David Silverman's book on Harvey Sacks...deals with conversation analysis and its relation to social sciences. It is designed to stimulate an interest in the potential of conversation analysis among those who are not too familiar with the area, and it is likely to succeed. ... For those who are tired of the rhetoric of big strategic issues or the latest managerial fad, here is an opportunity to redirect themselves towards making management research (or part of it) into a truly observational social science. Read Silverman's book on Sacks, think, and then read some more!' Sten Jönsson, Scandinavian Journal of Management

'This book can be used to complement primary materials in upper-level undergraduate and graduate courses on language use and conversation analysis. At the time of writing this review, I have not yet had a chance to use the book in my classes, but particularly at the undergraduate level, where my use of Sacks's lectures has met with varied reactions, I anticipate that Silverman's introduction to the "aesthetic" and "the legacy" may help overcome some barriers.' Language in Society
The first, book-length introduction to the work of Harvey Sacks - a very influential American sociologist who invented an approach to the study of language which is called Conversation Analysis
This book explains Sacks's ideas and methods in a clear and accessible way using examples which will be easily understood by students and non-specialist readers
The author relates Sacks's work to a wide range of disciplines including sociology, linguistics, anthropology and psychology.