Have Faith Anyway: The Vision of Habakkuk for Our Times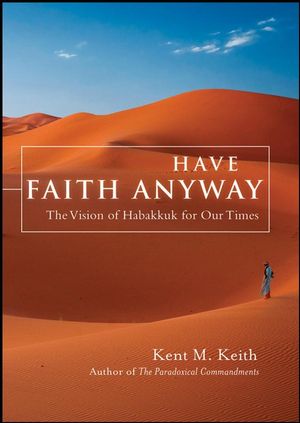 Have Faith Anyway: The Vision of Habakkuk for Our Times
ISBN: 978-0-470-28628-9
Sep 2008, Jossey-Bass
128 pages
Product not available for purchase
Description
From Kent M. Keith, the author of the internationally acclaimed Paradoxical Commandments, comes a remarkable book about faith. In Have Faith Anyway, Keith explores the meaning of his eleventh commandment: The world is full of violence, injustice, starvation, disease, and environmental destruction. Have faith anyway. Like the other paradoxical commandments, this one focuses on the fundamental values we have in common as human beings.
Preface.
Chapter 1: The Prophet Who Confronted God.
Chapter 2: The Anguish of Habakkuk.
Chapter 3: In God's Time, Not Our Time.
Chapter 4: The Lessons of the Five Woes.
Chapter 5: Living by Faith.
Chapter 6: Faith Versus Beliefs.
Chapter 7: The Unshakable Faith of Habakkuk.
Chapter 8: A Vision for Christians Today.
Chapter 9: Your Own Vision: An Invitation.
Reader's Guide for Reflection and Study.
Notes.
References.
Acknowledgments.
About the Author.