Hayden White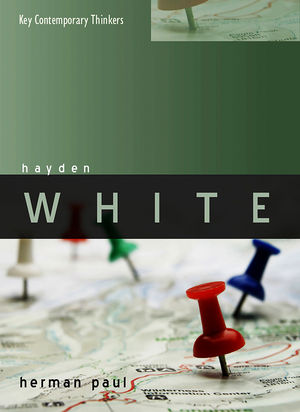 Hayden White
ISBN: 978-0-745-63765-5 April 2013 Polity 216 Pages
Description
This new book offers a clear and accessible exposition of Hayden White's thought. In an engaging and wide-ranging analysis, Herman Paul discusses White's core ideas and traces the development of these ideas from the mid-1950s to the present. Starting with White's medievalist research and youthful fascination for French existentialism, Paul shows how White became increasingly convinced that historical writing is a moral activity. He goes on to argue that the critical concepts that have secured White's fame – trope, plot, discourse, figural realism – all stem from his desire to explicate the moral claims and perceptions underlying historical writing. White emerges as a passionate thinker, a restless rebel against scientism, and a defender of existentialist humanist values.
This innovative introduction will appeal to students and scholars across the humanities, and help develop a critical understanding of an increasingly important thinker.
Table of contents
Acknowledgments.
Introduction: How to Read Hayden White.
White's Achievement.
White's Reputation.
White's Questions.
Reinterpreting White.
Structure of the Book.
1. Humanist Historicism: The Italian White.
The Papal Schism of 1130.
White's Covering Law Model.
"Ideology" or "Value Orientation".
The Disenchantment of the World.
From Historicism to Sociology.
A Croce Partisan.
Questions In/About History.
2. Liberation Historiography: The Politics of History.
Why History?
Choosing a Past.
Strong Humanist Father Figures.
Social Conditions of Freedom.
In Defense of Metahistory.
A Philosophy of Liberation.
3. The Historical Imagination: Four Modes of Realism.
An Inverted Disciplinary History.
Escaping the Ironist's Cage.
Imagination: Thinking and Dreaming.
A Manual of Tropology.
Structuralist Linguistics.
The Freedom of Imagination.
White's Linguistic Turn.
4. The Power of Discourse: White's Structuralist Adventure.
Three Modes of Comprehension.
Figurative Language.
Fictions of Factual Representation.
Objectivism and Relativism.
The Prison-House of Language.
Getting Out of History.
5. Masks of Meaning: Facing the Sublime.
The Content of the Form.
Stories Are Not Lived But Told.
Sublime Historical Reality.
The Specter of Fascism.
Modernist Anti-Narrativism.
6. Figuring History: The Modernist White.
Modernist Events.
Intransitive Writing.
A Turning Point?
Figural Realism.
The Practical Past.
Epilogue.
Notes.
Bibliography.
Index.
Reviews
"As an introduction to the thought and work of Hayden White, it is hard to see this volume being surpassed for some considerable time."
Reviews in History
"A thoughtful, comprehensive and much needed introduction to the work of White. It is not only well argued and researched, but also readable and accessible. It should be required reading not only for undergraduate and postgraduate students, but all historians who want to understand how the discipline of history changed over the twentieth century."
International Network for Theory of History

"Paul has accessibly, lucidly and systematically analysed the development of White's thought in such a way as to challenge the common understanding of White as a poststructuralist and postmodernist. He has, in short, produced a fine introduction."
European Review of History
"Warmly recommended to every historian as a reliable roadmap into the highly relevant quest of this philosopher."
Leidschrift

"Should be applauded for bringing to bear a much-needed philosophical perspective on Hayden White's influential and extensive oeuvre."
Philosophy of the Social Sciences

"This study is unlikely to be surpassed in the near future in its scholarly attention to detail."
H-Soz-u-Kult

"A useful, and in many ways exemplary, introduction to White's legacy."
History and Theory

"A sharp book on an American intellectual whose work was not that of an outsider throwing rocks at a profession. This essay-review applauds Paul's endeavor."
Rethinking History

"The most balanced introduction to White's philosophy of history available."
Torbjörn Gustafsson Chorell, Uppsala University

"This book both attests to the importance of Hayden White as a metahistorian and provides a lucid account of his life and thought. It is a well-deserved tribute to the work and the man - a reliable introduction and an invitation to join in the critical dialogue his thought encourages."
Dominick LaCapra, Cornell University
"In this deeply researched and probing analysis of Hayden White, Herman Paul offers a strikingly novel interpretation of the goals and significance of his theories of historical writing. In contrast to virtually all previous commentators, Paul argues that the core of White's work is not principally concerned with rhetoric and narratology as such but seeks, instead, to offer a form of 'liberation historiography' that can free historians of the 'burden of history,' a concern stemming from White's lifelong embrace of existentialist humanism. Narratology, in Paul's view, achieved prominence in White's thinking because it offered a way to contest positivist history and thus unburden historians of their espousal of naïve realism and fantasies of objectivity."
Gabrielle M. Spiegel, Johns Hopkins University