Health, Emotion and The Body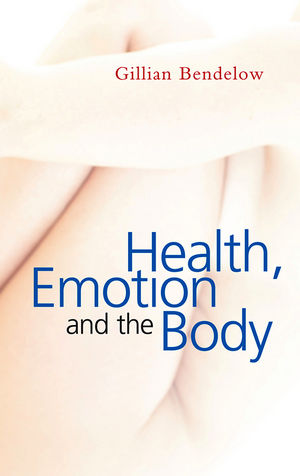 Health, Emotion and The Body
ISBN: 978-0-745-63644-3 May 2009 Polity 224 Pages
Description
In this compelling new book, Gillian Bendelow provides an accessible account of the complex interplay between mind, body and society.
Contemporary critiques of biomedicine and the process of medicalisation have long emphasised the limitations of traditional western scientific medicine in the separation of mind and body. The subsequent turn to more holistic models of health and illness is now beginning to permeate medical education and healthcare practice. For Bendelow, a key aspect of this paradigm shift is the development of more sophisticated concepts of stress, which address the intertwining of emotion and embodiment, and emphasise social and material factors alongside biopsychological components.
These theoretical and conceptual issues are explored first through an emphasis on contemporary health practices, and then through developments in illness and medicine. Examining the ways in which 'healthism', rather than 'medicalisation', pervades most areas of everyday life, attention is drawn to the bodily practices we pursue in the name of health. These include concerns with sexual health, health promotion, the use of complementary or alternative medicine, and the notion of emotional health. The book then considers the implications of being diagnosed as ill, and charts the limits of the divisions between 'mental' and 'physical' illness, examining a range of conditions, including chronic pain, eating disorders and other illnesses of the contemporary world.
Health, Emotion and the Body combines clarity of expression with careful scholarship and originality, making it appeal to students and scholars with a wide range of interests, including the sociology of health and illness, the body, and mental illness, as well as health psychology.
Table of contents
Preface.
Chapter 1 Beyond Biomedicalization: Integrated Models of Health & Illness.
Chapter 2 'Stress': the Key to Mind/Body?.
Chapter 3 Medically Unexplained Symptoms and 'Contested Conditions'.
Chapter 4 Medical Responses to Emotional Distress.
Chapter 5 Complementary Medicine and Alternative Healing Systems.
Chapter 6 Holism or Healthism?.
Bibliography
Reviews
"Bendelow offers an accessible and extremely enjoyable book for anyone intrigued by contemporary ideas surrounding the ill body."
Sociology
"This comprehensive book critically examines contemporary models of health and illness ... The book reminds us of the need to consider the individual experience of illness while seeing each person in his or her social context ... Of particular note is the straightforward reminder that illness is a social and emotional experience. The author reminds us that is the patient who should be diagnosed, not merely the disease. 5/5"
Nursing Standard
"A cogent and intelligent account of the implications of mind/body interactions for health."
Sociology of Health and Illness
"The quality of writing is high. Apart from the many case histories used to illustrate the points being made, Professor Bendelow gives many insightful observations on modern life and the way in which medical practitioners are responding."
RoSPA Occupational Safety & Health Journal
"In this insightful, timely, and engaging book, Gillian Bendelow takes a fresh look at the relationship between physical and mental illness, and their treatment. Positing stress as the key to mind-body medicine, Bendelow's analysis sheds much-needed light on key issues from medically unexplained symptoms to the surveillance implications of mind-body approaches. A must-read for anyone interested in the social dimensions of medicine, Health, Emotion and the Body charts the course to critical new areas of inquiry."
Laura Carpenter, Vanderbilt University
"Questions about the relationship between bodies, lives and medicine preoccupy all of us from time to time. In this accessible and very important book, Gillian Bendelow takes us through the critical issues underlying what medicine has to offer contemporary health problems. She identifies a paradigm shift, in which dualistic mind-body models and the dehumanizing and bureaucratic health care systems in which these are often embedded, are now widely understood as failing to provide any real understanding of how we live in and experience our bodies. Her arguments should be read by all those with an interest in humane health care (which is most of us, whether practitioners, users or students). The book is an elegant compendium of many different strands of thought, its conclusions a compelling directive for a more integrated approach."
Ann Oakley, University of London
Features
There is no other book like this on the market for students that thoughtfully guides the reader through all social, personal and emotional aspects of health and illness.

The topic is a cutting-edge and popular theme of current medical sociology.

Public debate and awareness around issues of general welfare and emotional well-being in health care is always growing.

In this field, Gillian Bendelow is the recognized expert.