Health Anxiety: Clinical and Research Perspectives on Hypochondriasis and Related Conditions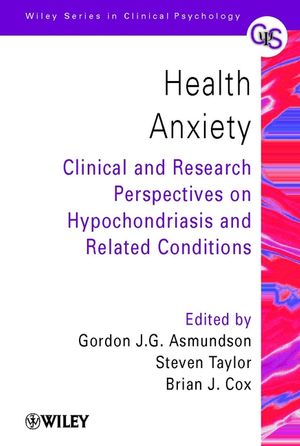 Health Anxiety: Clinical and Research Perspectives on Hypochondriasis and Related Conditions
ISBN: 978-0-471-49104-0
Dec 2001
440 pages
Description
Recent years have seen major advances in the understanding and treatment of health anxiety and hypochondriasis, particulary in relation to the cognitive behavioural approach to anxiety. This volume brings together this knowledge of psychological and pharmacological treatments of health anxiety, and relates it to a conceptual framework which provides a basis for assessment, treatment and ongoing research.

"Asmundson, Taylor and Cox have assembled a group of world class scientists and practitioners for this book. The chapters provide a wealth of information on the causes, assessment and treatment of health anxiety related disorders. I believe that their book is the most significant contribution to date to our understanding of health anxiety related disorders. Everyone working in the health field will find something of worth in this book."
G. Ron Norton, Ph.D, Professor Emeritus, University of Winnipeg, Canada
About the Editors.

List of Contributors.

Foreword: Professor S. Rachman.

Preface.

Acknowledgments.

PART I: CLINICAL FEATURES AND THEORETICAL PERSPECTIVES.

1. Health Anxiety: Classification and Clinical Features (Gordon J. G. Asmundson, Steven Taylor, Serperi Sevgur, and Brian J. Cox).

2. The Psychology of Physical Symptoms and Illness Behavior (Rene Martin, Katherine Lemos, and Howard Leventhal).

3. Making Sense of Hypochondriasis: A Cognitive Theory of Health Anxiety (Paul M. Salkovskis and Hillary Warwick).

4. Personality Traits and Health Anxiety (Erin McClure and Scott O. Lilienfeld).

PART II: ASSESSMENT AND TREATMENT.

5. Assessment of Health Anxiety (Sherry Stewart and Margo C. Watt).

6. Hypochondriasis: Boundaries and Comorbidities (Russell Noyes, Jr.).

7. Integrated Approach to Cognitive-Behavioral Therapy for Intense Illness Worries (Patricia Furer, John R. Walker, and Mark H. Freeston).

8. Pharmacological Management of Hypochondriasis and Related Disorders (Murray W. Enns, Kevin Kjernisted, and Mark Lander).

9. General and Cross-Cultural Considerations in a Medical Setting for Patients Presenting with Medically Unexplained Symptoms (Javier I. Escobar, Lesley A. Allen, Constanza Hoyos Nervi, and Michael A. Gara).

10. Hypochondriasis and Health Anxiety in the Elderly (Allison G. Snyder and Melinda A. Stanley).

PART III: RELATED CONDITIONS.

11. Heart-focussed Anxiety in Medical and Anxiety-related Psychological Conditions (Georg H. Eifert, Michael J. Zvolensky, and Carl W. Lejuez).

12. Hypochondriasis and Health Anxiety among Pain Patients (Heather D. Hadjistavropoulos, Katherine M. B. Owens, Thomas Hadjistavropoulos, and Gordon J. G. Asmundson).

13. Psychotic Disorders with Hypochondriacal Features: Delusions of the Soma (David Kingdon, Shanaya Rathod, and Douglas Turkington).

14. Death Anxiety (Robert J. Kastenbaum).

PART IV: CONCLUSIONS AND FUTURE DIRECTIONS.

15. Future Directions and Challenges in Assessment, Treatment, and Investigation (Gordon J. G. Asmundson, Steven Taylor, Kristi D. Wright, and Brian J. Cox).

Author Index.

Subject Index.
"...This book will give you the current status in the field from an international perspective..." (Int Jnl of Adolescent Medical Health, Vol.14, No.3, 2002)
"…It is well structured, clearly written and provides an excellent and comprehensive overview of the subject…" (British Journal of Clinical Psychology, September 2002)