Health Economics of Dementia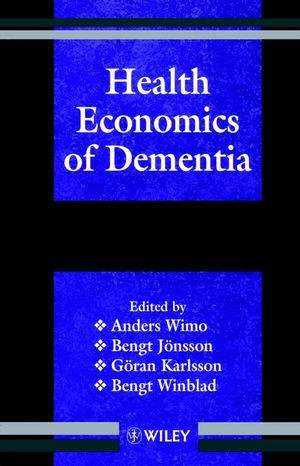 Health Economics of Dementia
ISBN: 978-0-471-98376-7
Oct 1998
596 pages
Description
Drugs are being developed to alleviate the symptoms of dementia and different models of care are being tried. This book is a reference work in the subject. It gives a basis of the disease, its epidemiology, care implications, development and use of drugs. It discusses the challenges of obtaining reliable data and reviews the tools used to assess the costs of dementia to date. It also deals with the pharmacoeconomics of dementia.
GENERAL ASPECTS.
Classification and Diagnostics (L. Fratiglioni).
Epidemiology (L. Fratiglioni).
Symptomatology: Functional Capacity and Behaviour (H. Brodaty D. Lie).
Care Options and Service Innovations in Dementia Care (L. Johansson).
Different Ways of Organizing and Financing Health Care (S. H嫡nsson).
Cultural Concepts of Care for the Demented (B. Ineichen).
Interaction with People Suffering Severe Dementia (A. Norberg).
Distress and Burden for Family Caregivers (C. Whitlatch).
HEALTH ECONOMICS APPROACHES TO DEMENTIA.
Principles of Pharmacoeconomics (M. Drummond).
Methodological Issues in Health Economic Studies of Dementia (G. Karlsson, et al.).
Modeling Disease Progression with Markov Models (F. Sonnenberg E. Leventhal).
Cost of Illness of Dementia (W. Max).
Costs of Dementia in the Netherlands (M. Koopmanschap, et al.).
Cost of Treatment and Care of Alzheimer's Disease in Germany (J.-M. Schulenburg, et al.).
Costing Community Care of People with Dementia (M. Knapp R. Wigglesworth).
Indirect Costs and Costing Informal Care (M. Koopmanschap W. Brouwer).
The Resident Assessment Instrument (RAI) and Resource Use in Dementia Care (G. Ljunggren J. Morris).
Costs of Diagnostic Procedures (S. Gauthier).
How Will Japan Cope with the Impending Surge of Dementia? (Y. Arai N. Ikegami).
Drug Costs in Dementia Care (J. Fastbom M. Giron).
Costs of Dementia-Specific Care Approaches (A. Wimo, et al.).
OUTCOME MEASUREMENTS.
Test Scores in Clinical Trials vs Performance in Real Life: Can Clinical Global Assessments Bridge the Gap? (R. Doody).
Severity Scales (B. Reisberg, et al.).
Measuring QALYs in Dementia (P. Neumann, et al.).
Assessing ADL/IADL in Persons with Dementia (L. Nyg岤).
Assessment of Cognitive Functioning (O. Almkvist).
Measurements of Quality of Life in Dementia (P. Whitehouse).
Assessment of Behavioral and Psychiatric Symptoms in Patients with Dementia Disorders (S. Eriksson A. Wimo).
Instruments to Measure the Family Caregiver Burden (M. Grafstr?. Sandman).
PHARMACOECONOMIC ASPECTS.
Drug Authorities' Policy on the Assessment of Drugs for Dementia (S. Hill P. McGettigan).
Designing Phase III Trials of Anti-dementia Drugs with a View Towards Pharmacoeconomic Considerations (L. Schneider).
Evaluation of the Healthcare Resource Utilization and Caregiver Time in Anti-dementia Drug Trials (A. Wimo, et al.).
Clinical and Economic Considerations of Anti-Dementia Drug Treatment: Efficacy, Effectiveness, Efficiency (H. Feldman B. Prigent).
Ethical Considerations in Pharmacoeconomic Trials in Dementia (S. Post).
Issues in Cross-Cultural Assessment of Economic Outcomes in Dementia (E. Witthaus).
Nursing Home Placement and Mortality as Outcomes in Clinical Trials of Anti-Dementia Drugs: Methodological Issues (S. Gracon F. Smith).
Outcomes Research and Alzheimer's Disease: A Pharmaceutical Industry Perspective (V. Mastey).
FINAL REMARKS.
A Proposed Health Economics Research Agenda for Dementia (B. Winblad, et al.).
Index.
"...to the best of my knowledge, this is the only comprehensive review on the health economics of dementia. The book shsould appeal to anyone with a special intrest in dementia, particulalry those involved in clinical trials..." (International Journal of Geriatric Psychiatry, Volume 14)