Health Issues in the Black Community, 2nd Edition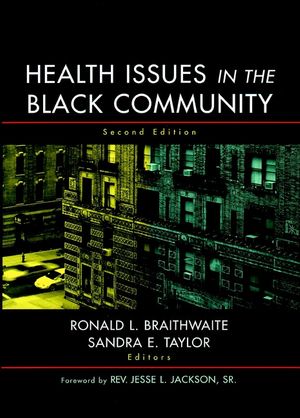 Health Issues in the Black Community, 2nd Edition
ISBN: 978-0-787-96005-6 March 2004 Jossey-Bass 648 Pages
Description
Vigorous action must be directed to prevent disease, promote overall health, and deliver appropriate care within the African American population. In this thoroughly updated and revised edition of Health Issues in the Black Community the authors offer an in-depth examination of the most pressing health problems confronting the black community. Written by a stellar panel of scholars and practitioners in the field, this valuable resource examines such topics as chronic illnesses, the effect of violence, and health policy. Health Issues in the Black Community also contains the most current thinking on relevant health, delivery, lifestyle, and policy issues.
Foreword: Another Call to Action Rev. Jesse L. Jackson, Sr.

HEALTH STATUS ACROSS THE LIFE SPAN.

African American Health: An Overview (S. Taylor & R. Braithwaite).

The Health Status of Children and Adolescents (A. Cohall & H. Bannister).

The Health Status of Black Women (S. Taylor).

The Health Status of Black Men (R. Braithwaite).

Health and the Elderly (J. Jackson & S. Sellers).

SOCIAL, MENTAL, AND ENVIRONMENTAL CHALLENGES.

The Epidemiology of Mental Disorder: 1985-2000 (H. Neighbors & D. Williams).

The Role of Black Faith Communities in Fostering Health (A. Wimberly).

The Epidemic of Homicide and Violence (W. Hammond & D. Prothrow-Stith).

The Dilemma of Organ and Tissue Transplantation (C. Callender & M. Hall).

CHRONIC DISEASES.

Hypertension and Other Risk Factors for Stroke (J. Flack, et al.).

Cancer (L. Jones, et al.).

Diabetes (M. Elders & F. Murphy).

Sickle Cell Anemia (C. Whitten).

Tuberculosis (H. Ellis & R. Levine).

Pediatric Asthma in African American Children (J. Essien, et al.).

LIFESTYLE BEHAVIORS.

HIV/AIDS (L. Jemmott, et al.).

Tobacco: From Slavery to Addiction (S. Headen & R. Robinson).

Substance Abuse (T. Strickland).

Alcohol Use and Misuse (F. Harper).

Nutrition (S. Kumanyika & A. Odoms).

Physical Activity (W. Taylor, et al.).

ETHICAL, POLITICAL, AND ECOLOGICAL ISSUES.

The Quest for Environmental Justice (R. Bullard, et al.).

Research and Ethics: A Legacy of Distrust (G. Corbie-Smith & K. Arriola).

Health Policy Challenges (B. Walker).

Cultural Sensitivity in Public Health (K. Resnicow & R. Braithwaite).

Closing the Gap: Eliminating Health Disparities (S. Thomas & S. Quinn).

Afterword (J. Maupin).
"The truth hurts but silence kills. Braithwaite, Taylor, and the contributing authors of Health Issues in the Black Community have issued a wake up call to us all. All nations must wake up and deal with the health disparity gap with truth, dignity, and equity." (Desmond Tutu, Archbishop Emeritus, Cape Town, South Africa, Nobel Peace Laureate, 1984)

"Drs. Braithwaite and Taylor have done it again with the Second Edition of Health Issues in the Black Community. This book examines the specific health care needs of African Americans at the same time that it offers practical solutions and recommendations to ensure the wellbeing of members of this population. A must-read for health care professionals of all races." (Kweisi Mfume, president and CEO, NAACP)

"In an era in which new scientific advances seem to occur on a daily basis, the continuing disparities in physical and mental health that exist in our country are particularly disheartening. It is for this reason that publications such as Health Issues in the Black Community are a necessity. We must continue to conduct and disseminate research necessary to combat this problem and to improve the lives of our people." (Congresswoman Donna Christian-Christensen, Chair, Congressional Black Caucus Health Braintrust)

"This book is the definitive examination of health issues in black America--issues sadly overlooked and downplayed in our culture and society. I congratulate Drs. Braithwaite and Taylor for their monumental book!" (Cornel West, Alphonse Fletcher Jr. University Professor, Harvard University)

"A must for all physicians and persons interested in improving the health status of the African American population." (Choice, 12/01)