Health Issues in the Black Community, 3rd Edition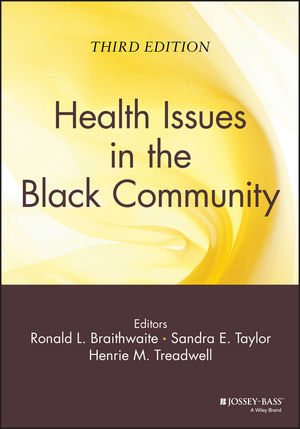 Health Issues in the Black Community, 3rd Edition
ISBN: 978-0-470-43679-0
Nov 2009, Jossey-Bass
656 pages
Description
Health Issues in the Black Community THIRD EDITION
"The outstanding editors and authors of Health Issues in the Black Community have placed in clear perspective the challenges and opportunities we face in working to achieve the goal of health equity in America."
—David Satcher, MD, PhD, 16th Surgeon General of the United States and director, Satcher Health Leadership Institute at Morehouse School of Medicine
"Eliminating health disparities must be a central goal of any forward thinking national health policy. Health Issues in the Black Community makes a valuable contribution to a much-needed dialogue by focusing on the challenges of the black community."
—Marc Morial, Esq., president, National Urban League
"Health Issues in the Black Community illuminates comprehensively the range of health conditions specifically affecting African Americans, and the health disparities both within the black community and between racial and ethnic groups. Each chapter, whether addressing the health of African Americans by age, gender, type of disease, condition or behavior, is well-detailed and tells an important story. Together, they offer practitioners, consumers, scholars, and policymakers a crucial roadmap to address and change the social determinants of health, reduce disparities, and create more equal treatment for all Americans."
—Risa Lavizzo-Mourey, MD, MBA, president, Robert Wood Johnson Foundation
"I recommend Health Issues in the Black Community as a must-read for anyone concerned about the future of the African American community. Health disparities continues to be one of the major issues confronting the black community. This book will help to highlight the issues and keep attention focused on the work to be done."
— Elsie Scott, PhD, president of the Congressional Black Caucus Foundation
"This book is the definitive examination of health issues in black America—issues sadly overlooked and downplayed in our culture and society. I congratulate Drs. Braithwaite, Taylor, and Treadwell for their monumental book."
—Cornel West, PhD, professor, Princeton University
Foreword (Georges C. Benjamin).
Preface.
Editor Biographies.
Author Biographies.
PART ONE Health status across the life span.
1 African American Health: An Overview (Ronald L. Braithwaite, Sandra E. Taylor, Henrie M. Treadwell).
2 "Without Health and Long Life All Else Fails": A History of African Americans and the Elimination of Racial Disparities in Health Care (Vanessa Northington Gamble).
3 The Health Status of Children and Adolescents (Desirée A. H. Oliver, Gene H. Brody).
4 The Health Status of Black Women (Sandra E. Taylor, Kisha Braithwaite Holden).
5 The Health Status of Black Men (Jean J. E. Bonhomme, April M. W. Young).
6 Health and Black Older Adults: Insights from a Life Course Perspective (Sherrill L. Sellers, Ishtar O. Govia, James S. Jackson).
PART TWO Social, mental, and environmental challenges.
7 Stigma and Mental Health in African Americans (L. DiAnne Bradford,Cassandra Newkirk, Kisha Braithwaite Holden).
8 Homicide and Violence Among African American Youth: From Epidemic to Endemic (Emilie Phillips Smith, Joseph Richardson, Rhonda BeLue?
9 Narrowing the Gap Between Supply and Demand of Organs for Transplantation: Current Issues for African Americans (Kimberly Jacob Arriola, Dana H. Z. Robinson, L. Ebony Boulware).
10 African Americans on the Frontline of Environmental Assault (Robert D. Bullard, Glenn S. Johnson, Angel O. Torres).
11 The Impact of Incarceration on the Health of African Americans (Nicholas Freudenberg, Megha Ramaswamy).
PART THREE Chronic diseases.
12 Hypertension in African American Communities (Sharon K. Davis, Rakale Collins Quarells, Gary H. Gibbons).
13 A General Overview of Cancer in the United States: Incidence and Mortality Burden Among African Americans (Shedra Amy Snipes, Donella J. Wilson, Angelina Esparza, Lovell A. Jones).
14 Health Disparities: The Case for Diabetes (Gregory Strayhorn).
15 Systemic Lupus Erythematosus (S. Sam Lim, Charmayne Dunlap-Thomas, Christina Drenkard).
16 Oral Health (Rueben C. Warren, Allan Formicolatable, Caswell A. Evans).
PART FOUR lifestyle behaviors.
17 Substance Abuse in the African American Community (Jean J. E. Bonhomme, Ronald L. Braithwaite Melita Moore).
18 HIV/AIDS in the Black Community (Ivory A. Toldson, Aba D. Essuon, Kamilah M. Woodson).
19 Tobacco Use and the Black Community in the United States: A Community-Focused Public Health Model for Eliminating Population Disparities (Robert G. Robinson, Rhonda Conerly Holliday).
20 Alcohol Use and Consequences for Blacks (Dionne C. Godette).
21 Nutrition and Obesity Issues for african Americans (Monica L. Baskin, Angela M. Odoms-Young, Shiriki K. Kumanyika, Jamy D. Ard).
22 Physical Activity (Antronette K. Yancey, Melicia C. Whitt-Glover, Mona Au Young).
PART FIVE Alternative interventions and human resources development.
23 Chiropractic Medicine: Integral to Integrative Medicine (Malika B. Gooden, Elton D. Holden).
24 The Role of Black Faith Communities in Fostering Health (Schnavia Smith Hatcher, Kimberly S. Clay, Jeronda T. Burley).
25 Community Health Workers in the Black Community: Building Trust, Alleviating Pain, and Improving Health Access (Jacqueline Martinez, Laura Joslin Frye, Leda M. Perez).
PART SIX Ethical, political, and ecological issues.
26 Using Social Marketing to Lessen Health Disparities (Mesha L. Ellis, James P. Griffin Jr., Ken Resnicow).
27 Fostering a Social Justice Approach to Health: Health Equity, Human Rights, and an Antiracism Agenda (Camara Phyllis Jones, Anthony Hatch, Adewale Troutman).
28 Closing the Gap: Eliminating Health Disparities (Henrie M. Treadwell, Ronald L. Braithwaite, Sandra E. Taylor).
Afterword (Gail C. Christopher).
Index.