Health Justice: An Argument from the Capabilities Approach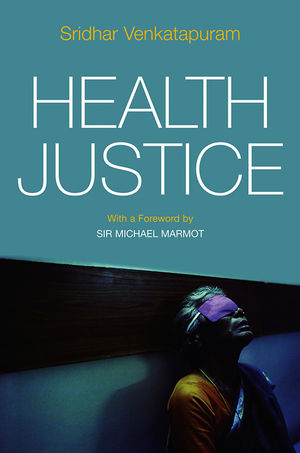 Health Justice: An Argument from the Capabilities Approach
ISBN: 978-0-745-63750-1 April 2013 Polity 288 Pages
Download Product Flyer
Download Product Flyer
Download Product Flyer is to download PDF in new tab. This is a dummy description. Download Product Flyer is to download PDF in new tab. This is a dummy description. Download Product Flyer is to download PDF in new tab. This is a dummy description. Download Product Flyer is to download PDF in new tab. This is a dummy description.
Description
Social factors have a powerful influence on human health and longevity. Yet the social dimensions of health are often obscured in public discussions due to the overwhelming focus in health policy on medical care, individual-level risk factor research, and changing individual behaviours. Likewise, in philosophical approaches to health and social justice, the debates have largely focused on rationing problems in health care and on personal responsibility. However, a range of events over the past two decades such as the study of modern famines, the global experience of HIV/AIDS, the international women's health movement, and the flourishing of social epidemiological research have drawn attention to the robust relationship between health and broad social arrangements.
In
Health Justice
, Sridhar Venkatapuram takes up the problem of identifying what claims individuals have in regard to their health in modern societies and the globalized world. Recognizing the social bases of health and longevity, Venkatapuram extends the 'Capabilities Approach' of Amartya Sen and Martha Nussbaum into the domain of health and health sciences. In so doing, he formulates an inter-disciplinary argument that draws on the natural and social sciences as well as debates around social justice to argue for every human being's moral entitlement to a capability to be healthy.
An ambitious integration of the health sciences and the Capabilities Approach,
Health Justice
aims to provide a concrete ethical grounding for the human right to health, while advancing the field of health policy and placing health at the centre of social justice theory.
With a foreword by Sir Michael Marmot, chair of the WHO Commission on the Social Determinants of Health.
Table of contents
Acknowledgements vi
Foreword ix
Introduction 1
Part I
1 Health as Capability 41
2 Causation and Distribution of Health 73
Part II
3 The Capabilities Approach 113
4 The Capability to be Healthy 143
Part III
5 Alternative Approaches 173
6 Groups and Capabilities 201
7 The Capability to be Healthy and Global Justice 215
Conclusion 233
Notes 239
References 247
Index 265
Reviews
"Provides a lucent account of the intersection of health policy and social justice and helps explains why it is unfair to saddle the poor with expectations that they may not be able to meet ... There is an elegance to the writing and an intellectual depth in its formulation that builds to a crescendo of argument richly accessible to the nonspecialized reader. I have little doubt that
Health Justice
will become a classic in the ever-important 'health-rights' genre, a literature that will be profoundly influenced by the addition of this important contribution."
Journal of the American Medical Association


"Venkatapuram presents a highly persuasive philosophical argument that the capability to be healthy needs to be recognized as a basic moral entitlement in the same way as other fundamental human rights ... This is a stimulating read which, while presenting a challenging philosophical argument, is rooted in the real world."
Journal of Public Health


"A landmark achievement, dense, carefully argued and bold in its conclusions … An excellent read for anyone who takes an interest in the moral and political aspects of health and health inequalities."
Sociology of Health and Illness
"In contrast to many books that garner praiseful quotations from prominent scholars, this one actually lives up to its laudatory appraisals. For those of us deeply interested in the interrogation of moral arguments for health and health care entitlements, the book is a must read."
Journal of Social Policy


"Rich and inspiring"
Netherlands Quarterly of Human Rights


"Venkatapuram elegantly and ambitiously articulates a new theory of health justice, which directly engages with alleviating the daily suffering of those who endure health injustice ... Health Justice is a thought-provoking, extensively researched book, which should reinvigorate the health and human rights debate in global health governance circles."
International Affairs
"Health Justice is a hugely important contribution to practical reason and to public policy. It presents an illuminating investigation of why the capability to be healthy is central to social justice, and identifies what can be done here and now to pursue that much neglected philosophical perspective."
Amartya Sen, Harvard University
"Do not mistake Sridhar Venkatapuram's Health Justice for an arcane treatise of interest to a small number of political philosophers. It is, rather, a bold consideration of human entitlement to 'the capability to be healthy.' The book which illuminates a stubborn 'blind spot' in modern political philosophy, is also a call to action: as Venkatapuram notes, theories of justice serve as both goal and guide, highlighting health disparities while also laying the moral groundwork for social change. I have no doubt that Health Justice will be required reading for philosophers and those interested in health disparities, but hope, too that it will be widely read by all those who formulate social policy - and by those, including physicians, who implement them."
Dr. Paul Farmer, Harvard Medical School & Partners in Health
"A very impressive achievement. Sridhar Venkatapuram is uniquely placed to bring together the literature in political philosophy and social epidemiology to generate a very persuasive capability approach to health justice. This book is a major contribution to debates in the definition of health, in the capability approach to justice, and in global health ethics."
Jonathan Wolff, University College London, and Director of the Centre for Philosophy, Justice and Health

"Health Justice is a crucial and impressive work. In contrast to earlier theorists, the author argues convincingly for a theory of social justice that recognizes people's moral right to the capability of being healthy. In his argument Venkatapuram combines a wealth of insights from various sources, such as philosophy of health and welfare, political science and economics. Thereby he makes a fascinating original contribution to the theory of health and welfare."
Lennart Nordenfelt, Linköping University
Features
A cutting-edge account of the capabilities approach to health justice
This interdisciplinary text will be essential reading for all students and scholars with an interest in applied ethics and public health
A vital presentation of an increasingly prominent and important approach to the topic
Includes detailed engagements with leading thinkers such as Norman Daniels, Martha Nussbaum and Amartya Sen.