Health Promotion and Professional Ethics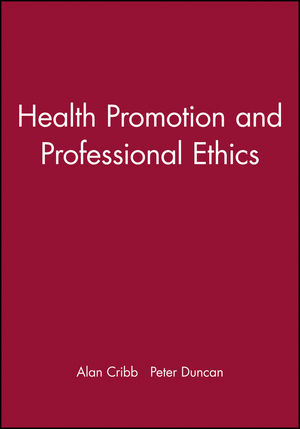 Health Promotion and Professional Ethics
ISBN: 978-0-632-05603-3
Mar 2002, Wiley-Blackwell
188 pages
Description
Health promotion is an increasingly important part of the work of most health professionals. Yet health promotion is qualitatively different from traditional health care activities.



This book will be a focused introduction to, and exploration of, ethical issues in health promotion. It aims to provide a rationale for the underlying value of health promotion and for resolving value conflicts. To what extent should an individual be obliged to contribute to the collective health of a society? Should a society be more concerned to promote health than to treat existing disease and illness? Indeed can a society be said to have a responsibility for the health of its members?

The first part of the book addresses the theoretical context of ethics and health promotion. The second part focuses on examples relating to nursing and other health professionals, using a case study approach. The book will be invaluable in helping professionals understand and respond to ethical challenges in practical ways.
Section One - Why Health Promotion Ethics?.
Chapter 1 Values and Health Promotion: Some Fundamentals.
Chapter 2 The Challenge to Professional Ethics.
Section Two - Values and Ethics in Health Promotion Practice.
Chapter 3 Empowerment or Control? Behavioural Counselling and Face-to-Face education.
Chapter 4 Individual or Community Benefit? Considering Teenage Pregnancy.
Chapter 5 Do We Know What We're Doing? Evidence and the Ethics of Lifestyle Change.
Chapter 6 Who Decides What to Do? A Food Policy Case.
Section Three - Towards Ethically Defensible Health Promotion.
Chapter 7 Codes and Guidelines: Can They Help Health Promotion?.
Chapter 8 Lessons from Applied Ethics.
Chapter 9 Some Resources for the Reflective Health Promoter
"Cribb and Duncan ask when and to what extent it is justifiable to put pressure on individuals or communities to improve their health…Their wisdom and sensitivity shine through. Written for health professionals, the book is vibrant and has relevance to those in day-to-day practice."
"A gem of a book and compulsory for anyone with an interest in ethics and health."

Nursing Times
* Firmly locates health promotion issues in the arena of professional ethics
* Elucidates the ethical issues and gives guidance on resolving potential conflicts
* Written from a multi-disciplinary perspective