Health Psychology: Biopsychosocial Interactions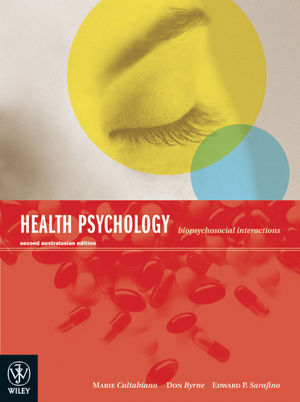 Health Psychology: Biopsychosocial Interactions
ISBN: 978-0-470-81345-4
Jun 2008
776 pages
Product not available for purchase
Description
The second edition of Health Psychology: Biopsychosocial Interactions continues to draw on the research and theoretical perspectives of many disciplines to illustrate the interrelationship of psychology and health. Using the biopsychosocial model for understanding the whole person in health and illness, the text explores current Australasian and international research conducted by health psychologists, public health researchers and those working in related fields. 

 

This edition retains the structure, broad scope, pedagogical features and clear, accessible style of Sarafino's landmark work, while applying Australasian health-related statistics and documenting a wide range of Australasian health promotion programs.
Part 1: An introduction: basic issues and processes 
Chapter 1 An overview of psychology and health
Chapter 2 The body's physical systems
Part 2: Stress, illness and coping
Chapter 3 Stress - its meaning, impact and sources
Chapter 4 Stress, biopsychosocial factors and illness
Chapter 5 Coping with and reducing stress
Part 3: Lifestyles to enhance health and prevent illness
Chapter 6 Health-related behaviour and health promotion
Chapter 7 Reducing substance use and abuse
Chapter 8 Improving nutrition, weight control and diet, physical activity and safety
Part 4: Becoming ill and getting medical treatment
Chapter 9 Using health services
Chapter 10 In the hospital: the setting, procedures and effects on patients
Part 5: Physical symptoms: pain and discomfort
Chapter 11 The nature and symptoms of pain
Chapter 12 Managing and controlling clinical pain
Part 6: Chronic and life-threatening health problems
Chapter 13 Serious and disabling chronic illnesses: causes, management and coping
Chapter 14 Heart disease, stroke, cancer and AIDS: causes, management and coping
Part 7: Looking to the future
Chapter 15 What's ahead for health psychology?
Ø      Highlight on issues Applied, high-interest topics, such as clinical assessments of healthy exercise, the psychological and physiological effects of drugs, and placebos and pain relief, are examined.
Ø      Focus on research Special attention is given to research methods in health psychology, including biofeedback, approaches to reducing cholesterol intake, and investigations into stress and immune response.
Ø      Assess Yourself These features give students an opportunity to examine their own health-related knowledge, beliefs and characteristics in areas such as alcohol abuse, AIDS prevention, weight control patterns, medical terminology and ethical issues.
Ø      Divided into seven parts, the text is organised so that the main focus progresses across chapters from primary prevention (parts 1 to 3), through secondary prevention (parts 4 and 5), to tertiary prevention and care (part 6).
A Chapter contents list and prologue begin each chapter outlining the major topics in the order in which they are covered and introduces the chapter with a vignette that is relevant to the material ahead. Each chapter concludes with a summary and a list of key terms used throughout the chapter.