Health Services Research Methods: A Guide to Best Practice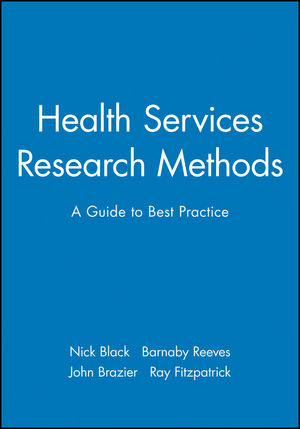 Health Services Research Methods: A Guide to Best Practice
ISBN: 978-0-727-91275-6
Nov 1998, BMJ Books
284 pages
Description
An up to date account of all that is known about the key methods used in health services research. It describes the uses and limitations of the principal methods based on the findings of the NHS Health Technology Assessment Programme. Each chapter makes suggestions for best practice.
Contributors.
Foreword.
1.Researching health services.
Part one: measurement of benefits and costs.
2.Patient-assessed outcome measures.
3.The use of health-related quality of life measures in economic evaluation.
4.Collecting resource use data in clinical studies.
5.Designing and using patient and staff questionnaires.
Part two: Methods of evaluating health care.
6.Choosing between randomised and non-randomised studies.
7.Comparison of effect sizes derived from randomised and non-randomised studies.
8.Factors that limit the number, quality, and progress of randomised trials.
9.Ehics of randomised trials.
10.Implications of sociocultural contexts for ethics of randomised trials.
11.Evaluation of health care interventions at area dn organisation level.
12.Qualitative methos in health services research.
Part three: Statistical methods.
13.Statistical methods: good practice and identifying opportunities for innovation.
14.An introduction to bayesian methods in health services research.
15.Quality of life aassessment and survival data.
Part four: Presenting, interpreting, and synthesising evidence.
16.Systematic reviews of randomised trials.
17.Handling uncertainty in economic evaluations of health care interventions.
18.Consensus development methods for creating clinical guidelines.
Part five: Future developments.
19.Horizon scanning: early identification of new health care technologies.
20.Evaluating new and fast-changing technologies.
21.Research implementation methods.
Appendices.
I What does "systematic" mean for reviews of methods?.
Ii Different types of systematic review in health services research.
Index
-Based on 20 systematic reviews of the literature on the methods covered

-Highly multi-disciplinary

-Each chapter is based on 12 months detailed work rather than the authors opinion

-Practical summaries for all chapters