Health and Safety Beyond the Workplace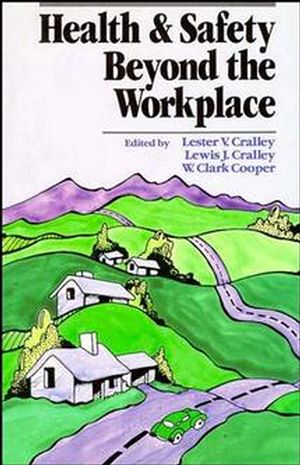 Health and Safety Beyond the Workplace
ISBN: 978-0-471-50452-8 June 1990 336 Pages
Description
In-Plant Practices for Job Related Health Hazards Control Volume 1:Production Processes Volume 2: Engineering Aspects Edited by LesterV. Cralley and Lewis J. CralleyVol. 1: 1989(0 471-61975-2)938pp.Vol. 2: 1989(0 471-50121-2)578 pp.2-Vol. Set: 1989(0471-51097-1)Patty's Industrial Hygiene and Toxicology Volume 1:General Principles Volumes 2A, 2B & 2C: Toxicology Edited byGeorge D. Clayton and Florence E. Clayton Volume 3A: Theory andRationale of Industrial Hygiene Practice: The Work EnvironmentVolume 3B: Theory and Rationale of Industrial Hygiene Practice:Biological Responses Edited by Lewis J. Cralley and Lester V.CralleyVol. 1:1978(0 471-16046-6)1,466pp.Vol. 2A:1981(0471-16042-3)1,420 pp.Vol. 2B:1981(0 471-07943-X)937 pp.Vol.2C:1982(0 471-09258-4)1,296 pp.Vol. 3A:1985(0 471-86137-5)822pp.Vol. 3B:1985(0 471-82333-3)753 pp.
PERSONAL EXPOSURE.

Arts and Crafts (F. Thompson & P. Thompson).

Home Gardening (S. Yamaguchi & L. Cralley).

Home Improvements and Repair (R. Garrison & P. Brady).

Household Chemicals (L. Cralley & L. Cralley).

Indoor Air Pollution (P. Scheff, et al.).

Ionizing Radiation (R. Beethe & M. Miller).

Nonionizing Radiation and Fields (R. Patterson & R.Hitchcock).

Outdoor Recreation (M. Raymond).

COMMUNITY EXPOSURE.

Air Pollution (L. Gephart & J. Hicks).

Food (J. Holtshouser, et al.).

Potable Water (R. Rubino).

PERSONAL PRACTICES EXPOSURE.

Alcohol (B. Dinman).

Tobacco Use (A. Kondo & M. Eriksen).

Summary and Commentary (W. Cooper).

Glossary of Terms.

Index.