Health and Safety in Organizations: A Multilevel Perspective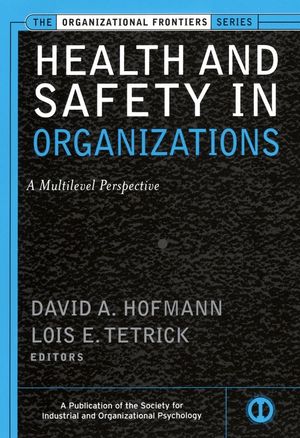 Health and Safety in Organizations: A Multilevel Perspective
ISBN: 978-0-787-96965-3
Jan 2003, Pfeiffer
464 pages
Product not available for purchase
Description
Health has often been defined as the absence of illness and as the state of well-being. This definition, however, actually constitutes two different criteria: the absence of illness and the presence of health. For example, a person may not have any signs of illness but may still have a cholesterol level that is too high. When thinking about healthy organizations, we often make the same distinction. A healthy organization, for example, is not only free from illness and doesn't harm employees but also possesses the presence of health as exemplified by its long-term adaptability and ability to thrive. This book considers this broader definition of health and safety in organizations--one that encompasses both the absence of illness as well as the presence of health--and the implications it has for industrial/organizational psychology and human resources.

A distinguished group of contributors provides a review and integration of different lines of research focusing on health and safety in organizations, including a broad array of topics ranging from the role of individual differences and training to human resource management strategy. They explore cross-level theoretical linkages between aspects of health and safety at the individual, group, and organizational level. These discussions examine the linkages between individual health and certain aspects of the overall health of the organization, as well as how certain aspects of organizations can influence individual health and well-being.
Foreword (Neal Schmitt).
Preface.
The Contributors.
1 The Etiology of the Concept of Health: Implications for "Organizing" Individual and Organizational Health (David A. Hofmann, Lois E. Tetrick).
PART ONE: INDIVIDUAL AND ORGANIZATIONAL EFFECTS.
2 Individual Differences in Health and Well-Being in Organizations (Paul E. Spector).
3 Improving Worker Safety and Health Through Interventions (Michael J. Burke, Sue Ann Sarpy).
4 Designing Healthy Work (Sharon K. Parker, Nick Turner, Mark A. Griffin).
5 Group and Normative Influences on Health and Safety: Perspectives from Taking a Broad View on Team Effectiveness (Paul Tesluk, Narda R. Quigley).
6 Antisocial Work Behavior and Individual and Organizational Health  (Michelle K. Duffy, Anne M. O'Leary-Kelly, Daniel C. Ganster).
7 The Influence of Leadership and Climate onOccupational Health and Safety(Dov Zohar).
PART TWO: STRATEGY AND POLICY.
8 Strategic HRM and Organizational Health (Jason D. Shaw, John E. Delery).
9 Work Arrangements: The Effects of Shiftwork, Telework, and Other Arrangements (Carlla S. Smith, Lorne M. Sulsky, Wayne E. Ormond).
10 The Work and Family Interface: Conflict, Family-Friendly Policies, and Employee Well-Being (Pamela L. Perrewé, Darren C. Treadway, Angela T. Hall).
11 Workplace Health Promotion (Amanda Griffiths, Fehmidah Munir).
12 Using Workers' Compensation to Promote a Healthy Workplace (Karen Roberts).
13 The Role of External Policies in Shaping Organizational Health and Safety (Chris Brotherton).
14 Concluding Comments: Integration and Future Directions (Lois E. Tetrick, David A. Hofmann).
Name Index.
Subject Index.