Health and Wellness Concerns for Racial, Ethnic, and Sexual Minorities: New Directions for Adult and Continuing Education, Number 142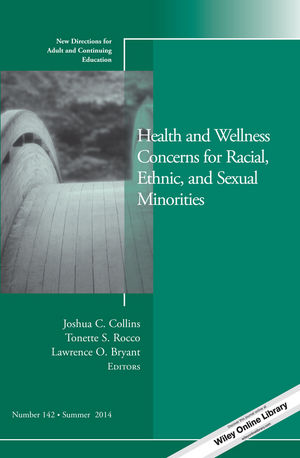 Health and Wellness Concerns for Racial, Ethnic, and Sexual Minorities: New Directions for Adult and Continuing Education, Number 142
ISBN: 978-1-118-91644-5 June 2014 Jossey-Bass 112 Pages
Description
Minority status in the United States often accompanies diminished access to education, employment, and subsequently health care. This volume explores factors that have contributed to health disparities among racial, ethnic, and sexual minorities.

Focused on developing strategies for understanding these disparities and promoting wellness in minority communities, the authors highlight social forces such as racism, ethnocentrism, sexism, and homophobia, which continue to influence not only access to and quality of care but also perception and trust of health care professionals. The authors identify several common themes, including the importance of communication, intentional and unintentional discriminatory structures, and perhaps most significantly, the role of culturally relevant learning sites.

This is the 142nd volume of the Jossey Bass series New Directions for Adult and Continuing Education. Noted for its depth of coverage, it explores issues of common interest to instructors, administrators, counselors, and policymakers in a broad range of education settings, such as colleges and universities, extension programs, businesses, libraries, and museums.
EDITORS' NOTES 1
Joshua C. Collins, Tonette S. Rocco, Lawrence O. Bryant
1. Disparities in Healthcare for Racial, Ethnic, and Sexual Minorities
5
Joshua C. Collins, Tonette S. Rocco
This chapter situates healthcare as a concern for the field of adult education through a critique of disparities in access to healthcare, quality of care received, and caregiver services for racial, ethnic, and sexual minorities.
2. The Black Church: Promoting Health, Fighting Disparities 15
Michael L. Rowland, E. Paulette Isaac-Savage
This chapter illustrates the role of the Black church in promoting health awareness and healthy behaviors, and in fighting health disparities.
3. Literacy and Health Disparities 25
Esther Prins, Angela Mooney
This chapter explores the relationship between literacy and health disparities, focusing on the concept of health literacy. Recommendations are provided for ways to bridge the health literacy gap for learners in adult basic education and family literacy programs.
4. Injection Drug Users, Aboriginality, and HIV: A Postcolonial Glance From a Strong Ally 37
John P. Egan
This chapter describes the intersection of colonization, disease, and community engagement, including the author's support for Aboriginal community-based HIV research.
5. Alcoholism and Lesbians 49
Julie Gedro
This chapter explores the issues involved in the relationship between lesbianism and alcoholism. It examines the constellation of health and related problems created by alcoholism, and it critically interrogates the societal factors that contribute to the disproportionately high rates of alcoholism among lesbians by exploring the antecedents and consequences of alcoholism.
6. Tobacco Use Among Sexual Minorities 63
Lawrence O. Bryant, Lorenzo Bowman
This chapter addresses tobacco use among sexual minorities. It examines research on the prevalence of tobacco use in the lesbian, gay, bisexual, and transgender (LGBT) community and discusseswhy tobacco use within this group continues to significantly exceed that of the general population.
7. HIV-Negative Gay Men and Autoimmune Diseases 73
Joshua C. Collins, Tonette S. Rocco
This chapter explores the factors that contribute to the disclosure and communication experiences of HIV-negative gay men with one or more autoimmune diseases.
8. African American Women and HIV/AIDS 81
Lisa M. Baumgartner
This chapter examines the challenges faced by African American women living with HIV/AIDS and how they learn to live with this chronic illness.
9. Partnerships and Collaborations in Promoting Health and Wellness in Minority Communities: Lessons Learned and Future Directions 91
Lawrence O. Bryant
Oppression in its many forms is so ingrained in the fabric of the legal, social, economic, educational, political, and medical systems in America that it often goes unrecognized and unaddressed. The chapters in this volume explored the evasive problem of health and wellness for racial, ethnic, and sexual minorities within a framework of adult education principles.
INDEX 97