Health and the Sociology of Emotions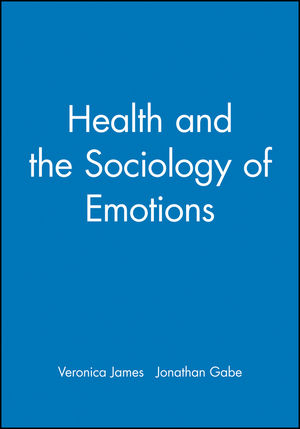 Health and the Sociology of Emotions
ISBN: 978-0-631-20351-3 March 1997 Wiley-Blackwell 216 Pages
Description
Health and the Sociology of Emotions offers an appraisal of the current lively debates which challenge the contribution of the sociology of emotion to health, and of sociology of health and illness to a sociological understanding of emotion.
Table of contents
Introduction (Veronica James, University of Nottingham; and Jonathan Gabe, Royal Holloway, University of London).
Theoretical Issues.
1. Biomedicine, holistic health and the emotionally reflexive body in "late" modernity (Gillian Bendelow and Simon Williams, University of Warwick).
2. C. Wright Mills meets Prozac: the social emotions approach to an understanding of health and illness (Margot Lyon, Australian National University, Canberra).
Methodology.
3. Plans, intentions and emotions: reflections on a methodological problem encountered in a study of teenage pregnancy (Andrew Finlay, Dorothy Whittington, Nicola Shaw and Monica McWilliams, Universities of Dublin and Ulster; Northern Health and Social Service Board).
4. Is there a reciprocal relationship between emotions as expressed in first person fieldwork accounts and the sociology of emotion? (Liz Young and Ray Lee, Royal Holloway, University of London).
Social Construction.
5. Emotional labour, order and emotional power in care assistant work (Geraldine Lee-Treweek, University of Manchester).
6. Social construction of emotion and health promotion: the case of nursing (Pam Smith and Abigail Masterson, RCN Institute of Advanced Nursing Education).
7. Trust, uncertainty and consumerist models of health care delivery (Deborah Lupton, University of Western Sydney).
8. Exploring emotional expression in medical examinations: a transcript-based analysis (Bill Yoels, University of Alabama at Birmingham).
Reviews
"The observations made here support the editors' view that the sociology of emotions and the sociology of health and illness have much to offer each other. Considered together, they open up new avenues of thought and the prospect of some enlightening medical studies."
--Sheila Hawker, University of Southampton
Features
* A unique combination of theoretical perspectives with case studies in one volume.
* Established and new authors.