Healthy Eating and Physical Activity in Out-of-School Time Settings: New Directions for Youth Development, Number 143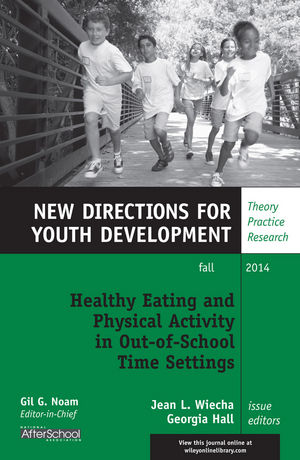 Healthy Eating and Physical Activity in Out-of-School Time Settings: New Directions for Youth Development, Number 143
ISBN: 978-1-119-04568-7
Jan 2015, Jossey-Bass
128 pages
Description
The evidence base of the impact and effectiveness of healthy eating and physical activity interventions in the out-of-school setting is continuing to emerge. By sponsoring this special issue, the National AfterSchool Association provides a platform for the sharing of a range of research studies that can inform and shape current discussion of best policies and practices to support child and youth wellness.

The body of work presented in this issue adds considerably to our knowledge of healthy eating and physical activity interventions in out-of-school programs, and highlights the substantial contribution towards childhood obesity prevention that we envision from our field.



This is the 143rd volume of New Directions for Youth Development, the Jossey-Bass quarterly report series dedicated to bringing together everyone concerned with helping young people, including scholars, practitioners, and people from different disciplines and professions.
Issue Editors' Notes 1
Jean L.Wiecha, Georgia Hall
Executive Summary 7
1. 4-H Healthy Living programs with impact: A national environmental scan
Laura H. Downey, Donna J. Peterson, Suzanne LeMenestrel, JoAnne Leatherman, James Lang 13
This chapter shares findings from an environmental scan of 4-H programs that adhered to the national 4-H Healthy Living mission.
2. Concerns in measurement of healthy eating and physical activity standards implementation
Katherine H. Hohman, Karah D. Mantinan 25
This chapter examines the measurement and monitoring of healthy eating and physical activity (HEPA) standards implementation in YMCA afterschool program sites.
3. Creating healthier afterschool environments in the Healthy Eating Active Communities program
Arnell J. Hinkle, Sallie Yoshida 45
This chapter describes California's Healthy Eating Active Communities (HEAC) afterschool program initiative, reviews findings from the HEAC afterschool program nutrition and physical activity evaluation, and shares strategies that were used to implement the five-year training and technical assistance intervention.
4. Effects of a competency-based professional development training on children's physical activity and staff physical activity promotion in summer day camps
R. Glenn Weaver, Michael W. Beets, Gabrielle Turner-McGrievy, Collin A.Webster, Justin Moore 57
This chapter presents findings from a multiyear evaluation of a competency-based training approach, adopted by the YMCA of Columbia, SC. Authors describe how a competency-based professional development training may be effective at increasing physical activity promoting and decreasing physical activity discouraging staff behaviors and related child activity levels.
5. Impact of implementation factors on children's water consumption in the Out-of-School Nutrition and Physical
Activity group-randomized trial
Rebekka M. Lee, Cassandra Okechukwu, Karen M. Emmons, Steven L. Gortmaker 79
This chapter demonstrates the effectiveness of an afterschool intervention on increases in children's water consumption and outlines the substantial influence that implementation factors can have on the effectiveness of an obesity prevention intervention.
6. Evidence-based fitness promotion in an afterschool setting: Implementation fidelity and its policy implications
Jean M. Thaw, Manuela Villa, David Reitman, Christian DeLucia, Vanessa Gonzalez, K. Lori Hanson 103
Using a three-wave, quasi-experimental, naturalistic observation design, this study evaluated the implementation of an evidence-based physical activity (PA) instruction curriculum and whether the potential health benefits of evidence-based PA instruction can be replicated in this context when compared to out-of-school time programs that do not use evidence-based PA curricula.
7. Active summers matter: Evaluation of a community-based summertime program targeting obesogenic behaviors of low-income, ethnic minority girls
Amy M. Bohnert, Amanda K.Ward, Kimberly A. Burdette, Rebecca L. Silton, Lara R. Dugas 133
This study examines the effectiveness of Girls in the Game, a six-hour four-week sports and fitness summer camp program, in increasing physical activity and reducing body mass index and media use.

Index 151