Heart Failure: A Clinical Nursing Handbook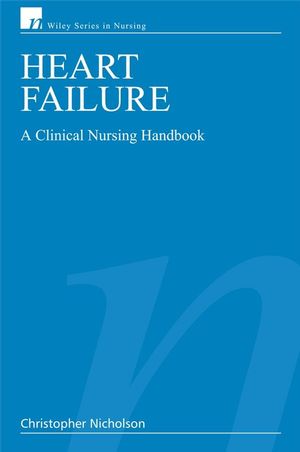 Heart Failure: A Clinical Nursing Handbook
ISBN: 978-0-470-98810-7 April 2008 270 Pages
Description
This book provides a complete, easy-to-use handbook for nurses who see patients with heart failure. In recent years heart failure has become a high priority in health care. With more nurses caring for patients with heart failure and making decisions that are often complex, there is a clear need for those nurses to have access to good quality clinical information and guidance. This book is designed to be a practical, 'one-stop', handbook for the practitioner, supported by case studies and up-todate references throughout, providing all the topics the Practitioner or student may need in their work with patients with heart failure.
About the Author.
Preface.
Part I Introduction.
1 Definitions.
Introduction.
Historical Outline.
Definitions.
Terminology.
Grading of Heart Failure.
2 Epidemiology.
Overview.
Prevalence.
Incidence.
Subgroup Differences.
Future Trends.
3 Causes.
Overview.
Ischaemic Heart Disease.
Hypertension.
Valve Disease.
Arrhythmias.
Infection.
Alcohol.
Diabetes.
Genetic Heart Failure.
Other Rare Rauses of Heart Failure.
Iatrogenic Heart Failure.
4 Outcomes.
Prognosis.
Mortality.
Morbidity.
Quality of Life.
Health Economics.
5 Physiology.
The Normal Heart.
The Failing Heart.
Part II Diagnosis and Assessment.
6 Clinical Assessment.
Role of Clinical Assessment.
Assessment Skills.
Presenting Complaint.
Past Medical History.
Lifestyle Review (Social History).
Medication Review.
Symptoms of Heart Failure.
Signs of Heart Failure.
Signs of Structural Change.
Systemic Signs.
Assessment Tools and Competency.
7 Investigations.
Use of Investigations.
Investigations for Diagnosis.
Investigations for Follow-up.
Heart Failure Screening.
Electrocardiogram (ECG).
Echocardiogram.
Chest X-ray (CXR).
Blood Tests.
Cardiac Catheterisation.
Impedance Cardiography (ICG).
Nuclear Imaging.
Part III Treatment.
8 Treatment Essentials.
Education.
Information.
Lifestyle.
9 Exercise Training.
Background.
Exercise Physiology.
Rationale for Exercise Training.
Evidence Base.
Safety.
Types of Exercise Training.
Service Delivery.
10 Medicines.
Overview.
Guidelines.
Treatment Principles.
Elderly Patients.
Asymptomatic Patients.
Nursing Role.
Diuretics.
ACE-inhibitors.
Angiotensin II Receptor Blockers (A2RB).
Beta-blockers.
Aldosterone Antagonists.
Digoxin.
Nitrates.
Other Vasodilators.
Oxygen.
Inotropes.
Anti-arrhythmic drugs.
Opioids.
Drugs to Avoid.
11 Invasive Treatments.
Role of Invasive Treatments.
Cardiac Surgery.
Devices.
Emerging Technologies.
12 End-Stage Heart Failure.
Defining 'End-Stage' Heart Failure.
The Dying Heart.
Symptoms.
Resuscitation Issues.
Psychological and Spiritual Dimension.
Family and Carers.
Specialist Palliative Care.
Service Issues.
Part IV Policy and Service Issues.
13 Policy Framework.
Historical Perspective.
National Service Frameworks.
Professional Guidelines Specific to Heart Failure.
Primary and Secondary Care.
Future Developments.
14 Service Issues.
Heart Failure Services.
Funding.
Key Partners.
Patient Participation.
Identifying Patients.
Referrals.
Service Effectiveness.
Heart Failure: Clinical Trials Index.
Glossary and Abbreviations.
References.
Index.
""This book is easy to read, despite having minimal pictures and diagrams. It would be a helpful tool for students, newly qualified nurses and any practitioner requiring a refresher or update on heart failure."" (
British Journal of Perioperative Nursing
, June 2009)
This useful handbook introduces the reader to key issues in enhancing the care of patients with heart failure. (British Journal of Cardiac Nursing, July 2008)
""An absolute must for any practitioner involved in running a heart failure service and should also be on the shelf of every university library, coronary care unit, medical unit and GP surgery."" (Nursing Standard, May 2008)