Heart Failure: Molecules, Mechanisms and Therapeutic Targets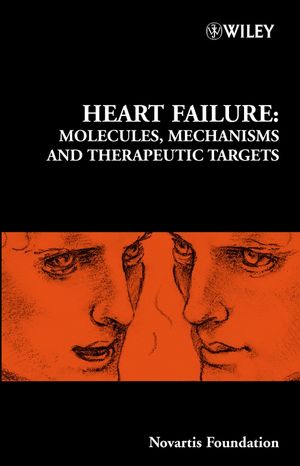 Heart Failure: Molecules, Mechanisms and Therapeutic Targets
ISBN: 978-0-470-02932-9 November 2006 302 Pages
Download Product Flyer
Download Product Flyer
Download Product Flyer is to download PDF in new tab. This is a dummy description. Download Product Flyer is to download PDF in new tab. This is a dummy description. Download Product Flyer is to download PDF in new tab. This is a dummy description. Download Product Flyer is to download PDF in new tab. This is a dummy description.
Description
Heart failure is the main cause of death and disability in the industrialized world. There is a major need for novel therapeutics for prevention and reversal of cardiac pathology associated with heart failure and cardiac enlargement. Over recent years, dramatic progress has been made in unravelling the cellular circuitry involved in cardiac failure, as well as in normal cardiac growth, development and apoptosis. This work has revealed new and unexpected therapeutic targets in the heart. In addition, advances in understanding the role of stem cells in cardiac physiology have suggested strategies for cardiac repair and regeneration once thought impossible.
This book describes the work of leading investigators studying the basic mechanisms of cardiac growth, function and dysfunction. There are also exciting contributions from researchers developing novel therapeutic strategies for cardiac disease. The unique feature is the discussions amongst the contributors, which always return to the same basic problem: how can new data from biological studies be used to design novel therapies for the treatment of cardiac dysfunction following myocardial infarction, hypertension and other disorders?
With its strong emphasis on translational research, this book will appeal to both scientists and clinicians interested in diminishing the impact of the current epidemic of cardiac diseases.
Table of contents
Introduction
(Eric N. Olson)
.
Control of cardiac hypertrophy and heart failure by histone acetylation/deacetylation (Eric N. Olson, Johannes Backs and Timothy A. McKinsey) .
Discussion.
A novel mechanism of mechanical stress-induced hypertrophy (Hiroshi Akazawa, Yunzeng Zou and Issei Komuro) .
Discussion.
Controlling cardiomyocyte survival (N. de Jonge, M. J. Goumans, Daan Lips, Rutger Hassink, Eva J. Vlug, Roy van der Meel, Christopher Donald Emmerson, Joppe Nijman, Leon de Windt and Pieter A. Doevendans) .
Discussion.
Mechanisms of angiotensin II-dependent progression to heart failure (Mona Nemer, Nassim Dali-Youcef, Hao Wang, Anne Aries and Pierre Paradis) .
Discussion.
Alterations in myocardial gene expression as a basis for cardiomyopathies and heart failure (Matthew R. Taylor and Michael R. Bristow) .
Discussion.
Role of the insulin-like growth factor 1 (IGF1)/phosphoinositide-3-kinase (PI3K) pathway mediating physiological cardiac hypertrophy (Julie R. McMullen and Seigo Izumo).
Discussion.
Role of Akt in cardiac growth and metabolism(Anthony J. Muslin and Brian DeBosch).
Discussion.
Novel therapy for heart failure and exercise-induced ventricular tachycardia based on 'fixing' the leak in ryanodine receptors (Andrew R. Marks).
Discussion.
General discussion I.
Phospholamban as a therapeutic modality in heart failure (Guoxiang Chu and Evangelia G. Kranias).
Discussion.
Sarcomere protein gene mutations and inherited heart disease: a b-cardiac myosin heavy chain mutation causing endocardial fibroelastosis and heart failure (Mitsuhiro Kamisago, Joachim P. Schmitt, Dennis McNamara, Christine Seidman and Jonathan G. Seidman).
Discussion.
The cardiomyocyte cell cycle (Pascal J. E. Lafontant and Loren J. Field).
Discussion.
Restoration of cardiac function with progenitor cells (Carmen Urbich, Lothar Rössig and Stefanie Dimmeler).
Discussion.
Signalling pathways in cardiac regeneration (Maria Paola Santini, Nadine Winn and Nadia Rosenthal).
Discussion.
Beyond small molecule drugs for heart failure: prospects for gene therapy (Kenneth R. Chien).
Discussion.
Dual roles of telomerase in cardiac protection and repair (Michael D. Schneider).
Discussion.
Final general discussion.
Closing remarks: historical perspective (Arnold M. Katz).
Index of contributors.
Subject index.
Reviews
"…most up-to-date analysis on ways that science might look to reduce the harsh impact of heart disease." (
Electric Review
, February/March 2007)
"This book offers an update in the basic mechanism of heart failure from the premier investigators in the field." (Doody's Health Services)