Hedge Fund Due Diligence: Professional Tools to Investigate Hedge Fund Managers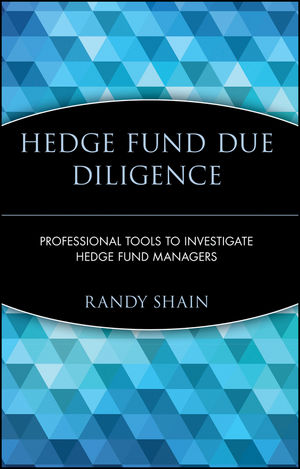 Hedge Fund Due Diligence: Professional Tools to Investigate Hedge Fund Managers
ISBN: 978-1-118-03924-3 December 2010 304 Pages
Description
Hedge Fund Due Diligence provides a step-by-step methodology that will allow you to recognize and avoid questionable hedge funds before its too late. Based on a framework that hedge fund investigative expert Randy Shain has refined over the course of his successful career, this book offers an overview of due diligence into hedge fund management, how information on managers can be obtained, and why this information is essential to your investment endeavors.
Acknoweldgments.
Introduction.
Chapter 1. Hedge Fund Growth – What It Means To The Institution.
Chapter 2. What Is Due Diligence? What Are The Various Types Of Due Diligence?
Chapter 3. What Kinds Of Hedge Fund Failures Do The Press Discuss? Why Do Most Hedge Funds Really Fail?
Chapter 4. Can The Chances Of Investing In Future Failures Be Lessened/Prevented? How?
Chapter 5. Investigative Background Reports – The Beginning: Identify Your Target.
Chapter 6. The Courts.
Chapter 7. News Media. Is Nexis Your Only Option?
Chapter 8. Regulatory Bodies.
Chapter 9. Credentials Verifications.
Chapter 10. Corporate Records: Not Just D&B Anymore.
Chapter 11. The Internet: What It Can Do And What It Can't.
Chapter 12. Public Records – Is That All There Is?
Chapter 13. What You Think Is Helpful, But Isn't.
Chapter 14. The Law.
Chapter 15. Credit Reports.
Chapter 16. Warning Signs, Red And Yellow Flags.
Notes.
| | |
| --- | --- |
| Addendum 4.3 IMA bankruptcy | Download |
| Addendum 4.3 IMA creditors | Download |
| Addendum 4.4 Darden suit | Download |
| Addendum 4.5 Smarthouse suit | Download |
| Addendum 4.6 Daniels suit | Download |
| Addendum 4.7 Wright NY criminal | Download |
| Addendum 6.1 PACER Bankruptcy Coverage | Download |
| Addendum 6.2 Lexis Bankruptcy Coverage | Download |
| Addendum 6.3 PACER civil.criminal coverage | Download |
| Addendum 6.4 Lexis vs. westlaw | Download |
| Addendum 6.5. CT Court Notice | Download |
| Addendum 6.6 Lexis State docket coverage | Download |
| Addendum 6.7 bayou.westervelt complaint | Download |
| Addendum 6.7 bayou.westervelt.docket | Download |
| Addendum 6.7 bayou.WesterveltDismissal | Download |
| Addendum 6.8 bayou NASD action | Download |
| Addendum 6.8 Bayou.NASD | Download |
| Addendum 6.9 bayou.dui | Download |
| Addendum 6.10 bayou.d'amore case | Download |
| Addendum 6.11 bayou.sutton east complaint | Download |
| Addendum 6.13 SF 313907 - Ehee1 | Download |
| Addendum 10.1 Compny;Compny sources | Download |
| Addendum 14.1 Release-Employment Related Diligence | Download |
| Addendum 14.2 End User Certification | Download |
| Addendum 14.3 FTC opinion letter | Download |
| Addendum 14.4 FCRA 2004 | Download |
| Addendum 15.1 Release.Credit | Download |
| Addendum 15.2 Credit Key | Download |