Hedge Funds: Definitive Strategies and Techniques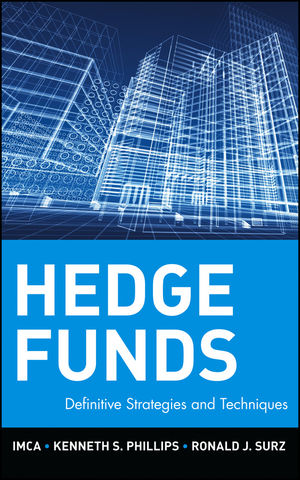 Hedge Funds: Definitive Strategies and Techniques
ISBN: 978-0-471-47342-8
Mar 2003
224 pages
Product not available for purchase
Description
A well-rounded hedge fund guide for the serious financial professional
Alternative investment strategies-hedge funds in particular-have experienced a significant resurgence recently, largely in response to the dramatic downturn of the global equity markets. In response to this explosion in popularity, this book focuses on many of the best moneymaking strategies related to these alternative investment vehicles.
IMCA (The Investment Management Consultants Association) is a professional association established in 1985, representing the investment consulting profession in the U.S. and Canada. Kenneth S. Phillips is a member of the IMCA Advisory Council and Managing Principal of Capital Partners, LLC. Ron Surz, CIMA, is a member of the IMCA Board of Directors and the President of PPCA Inc.
PREFACE.
ACKNOWLEDGMENTS.
CHAPTER 1: Hedge Funds: Overview and Regulatory Landscape (The Managed Fund Association).
CHAPTER 2: Alpha-Generating Strategies (Thomas Schneeweis and Richard Spurgin).
CHAPTER 3: Funds of Hedge Funds: Definitive Overview of Strategies and Techniques (Thomas Zucosky).
CHAPTER 4: Investing in Hedged Equity Funds (Brian A. Wolf, CFA).
CHAPTER 5: Arbitrage (Alfredo M. Viegas).
CHAPTER 6: Global Macro Funds (Gary Hirst).
CHAPTER 7: Managed Futures (Frank Pusateri).
CHAPTER 8: Manager Searches and Performance Measurement (Meredith A. Jones and Milton Baehr).
CHAPTER 9: Risk Management for Hedge Funds and Funds of Funds (Leslie Rahl).
CHAPTER 10: Structured Products—Then and Now (John Kelly and Kirt Strawn, CFA, CIMA).
APPENDIX A: The Hedge Fund Difference (Todd Goldman).
APPENDIX B: Some Helpful Links.
APPENDIX C: Value at Risk and Probability of Loss.
RESOURCES.
GLOSSARY OF TERMS.
CONTRIBUTORS.
INDEX.